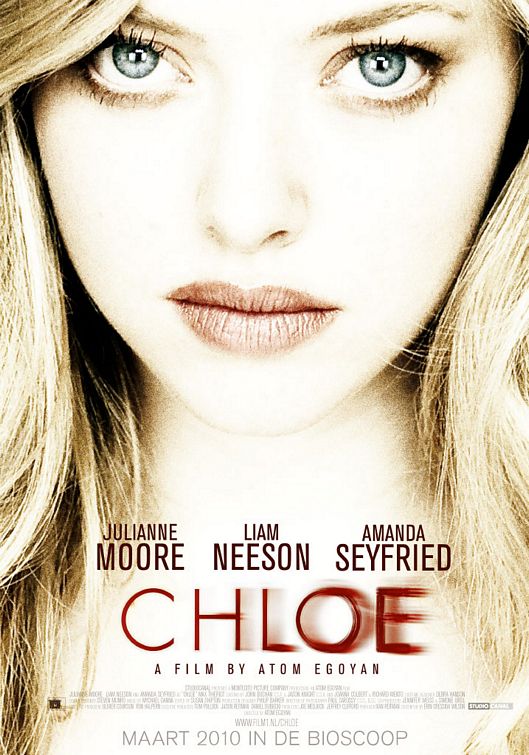 Year: 2009

Duration: 01:36:08
Directed by: Atom Egoyan
Actors: Julianne Moore, Amanda Seyfried, Liam Neeson, Max Thieriot
Language: English
Country: USA
Also known as: Chloé, Kloja, Chloe – Tra seduzione e inganno, Hloi
Description: Catherine is a doctor, David – Professor, they have a wonderful son. At first glance, this is an ideal family. But once David was late for the plane and passes a family celebration, dedicated to his birthday. From that moment Catherine begins to suspect her husband in cheating her. A woman makes a deal with Chloe to seduce David and provide a detailed report. But over time, more and more reports are dry and the meeting of the two women are more frequent …
Review: Desperate woman Catherine-plagued work and professional duties, no longer see themselves desirable in the eyes of her husband, which leads her to the conclusion that the constant infidelities of her husband. Trying to convict him of treason, she send for a purpose to it girl, very pretty and sensual. Now's the unfolding story of a love triangle that Catherine, David and Chloe are presented to us in the form of an erotic drama. By the way, the director of this movie, Atom Egoyan, also made another incest drama The Adjuster, directed in 1991.
Fatal Attraction, caused great music and erotic scenes, beautifully complemented actors vzhivshimisya so amazing in the role, presented a storm of desire. This film should see at least once so that each of us, for the simple reason that it can find something interesting and new.
I am absolutely confident that this pattern will appeal to all. Just for her to choose the right time. I love this movie. It's all life, present and sensual. As if you were there – no power off, despite the fact that the plot or some exciting ideas and no. But while enjoying every moment of the film. Everything is beautiful, tasteful.

Screenshots:
Download: