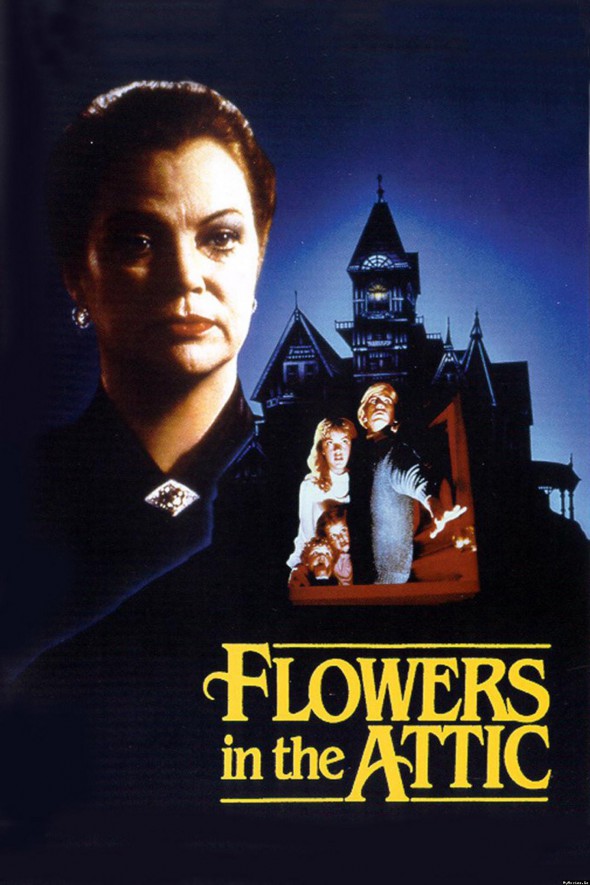 Year: 1987
Duration: 01:31:41
Directed by: Jeffrey Bloom
Actors: Louise Fletcher, Victoria Tennant and Kristy Swanson
Language: English
Country: USA
Also known as: Flores en el ático, Blomblad för vinden, Blumen der Nacht, Fiori nell'attico, Herdeiros do Ódio, Kwiaty na poddaszu, Louloudia sti sofita, O Jardim dos Esquecidos, Pimeyden kukat
Description: When Corinne's beloved husband died suddenly, for her and four children began hard times. She was left without a penny, with no job and did not know what to do. Life forced her to return to her parents' home, people rich, but stingy and cruel. Father was against her marriage and deprived her of his inheritance. Corinne hopes to soften him and for that goes to the hype: she hides in the attic her children, the existence of which he has no idea …
Review: "Flowers in the Attic" – a cruel and tough film. Drama played out in the family, is amazing. How could this happen?
This film is based on the novel of Virginia Andrews, who was I read as a teenager. Following was the movie. The script was written is the same Andrews, and I want to see many terrible things have been left out of the frame. The author's entire body of work tied to incest, in raising this is not shown. But the cruelty of her grandmother, mother's indifference, humiliation and despair of children amazes even the strongest mind.
The older children after the father lost and ended up in limbo for a tyrannical grandmother, did not despair and fought for themselves and their children. Did not want to believe in the treachery of the mother. Scary video almond cakes, dug graves and curly head kid Corey zadenut even the most resistant viewer …
Acting is average – we are accustomed to modern cinema, it may seem tight, but I really liked it. Actors picked all blondes, probably, that they looked more natural as prisoners dungeon (ie attic). Events are unpredictable and quite interesting, if not previously know spoilers and read a book.
This plot – can and fiction, but this story makes clear, very serious, that people actually extremely cruel beings, they are capable of such baseness, like no other in the world, and these stories happen, and such, and some worse. But they mostly remain behind closed doors.
Screenshots:
Download:
Flowers in the Attic 1987 Part 1