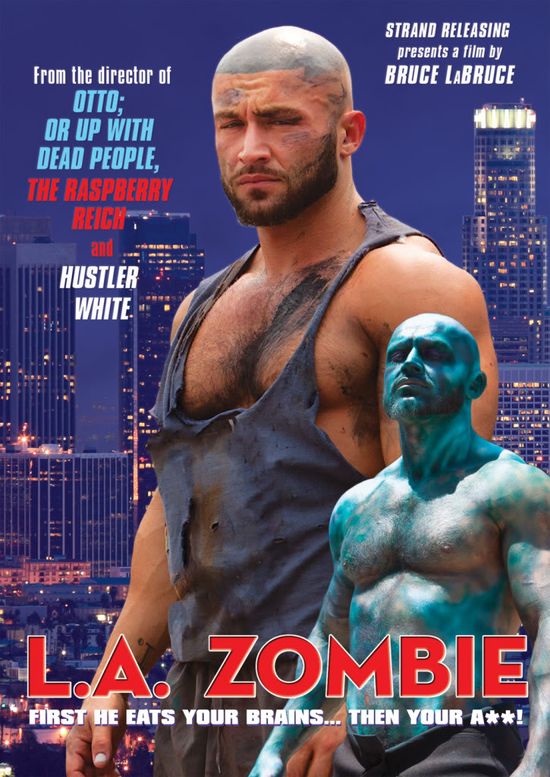 Year: 2010
Duration: 01:43:19
Directed by: Bruce La Bruce
Actors:  François Sagat, Rocco Giovanni, Wolf Hudson
Language: English
Country: USA / Germany
Also known as: L.A. Zombie, Gay of the Dead, L.A. Zombie: Hardcore
Description: This hardcore flick is about a strange creature from the depths of the Pacific Ocean, which falls in Los Angeles and tries to save the "living dead" – criminals, rapists, drug addicts – by mating with them.
Review: L.A Zombie, a movie without words.
The budget of the film, by the way, almost a million dollars …
First of all, it is necessary to enjoy the stunning soundtrack «I Want To be You». But the film probably should look, not least because of the scandals around the tape. Surprisingly, it is – the first film in 2003, which banned from being shown in Melbourne. Director of the film about zombies muscular, gay Bruce La Bruce, won two awards from the underground melbunskogo fest, including for "inappropriate use of sex" in his work.
La Bruce himself called his band "life-affirming," I laughed the entire movie: life-affirming French porn actor Francois Sagat men rescued from certain death by direct cardiac massage by his alien genitalia.
In general, facial expressions Sagat live in a trailer, the music, for me, is as successful as the ost «28 Days Later" and the absurdity of the plot (and if it is there), made ​​me even for the sake of interest to look at this creation.
The film, despite its trash, even for fans of the genre, gives joy and hope that death is not (well, for men, at least).
Screenshots:
Download: