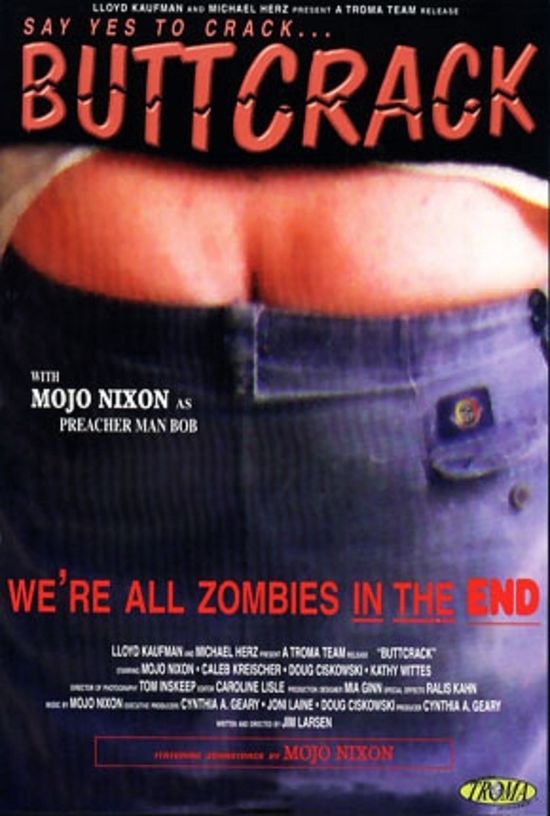 Year: 1998
Duration: 01:07:19
Directed by: Jim Larsen 
Actors: Doug Ciskowski, Caleb Kreischer, Rob Hayward 
Language: English
Country: USA
Also known as:
Description: "Brian is just a guy trying to get by college and is trying to pop the big question to his girlfriend, but the only thing standing between him and a marriage is his friend Wade, normally referred to as "Buttcrack", due to the fact that he never pulls his pants up. After screwing up a big date, Brain get's fed up with Wade and ends up killing him. At the funeral, Wade's sister (who is big on voodoo) puts a curse on Wade and whoever says the word "Buttcrack" 12 times in one breath will cause Wade to resurrect and seek revenge. Sure enough someone does and hell breaks loose."
This ultra low budget Troma is moronic but, at the same time, quite imaginative and fun.
Definitely not the best Troma, but I've seen many, many worse.
This was a request.
"Fat man Wade – happy guy. His favorite hobby is watching TV, playing video games and show off her huge butt. Brian, his roommate, habits Wade not to his liking, and when they are not liking and his girlfriend Annie, Bryan little blew and… accidentally killed Wade."
Screenshots
Download