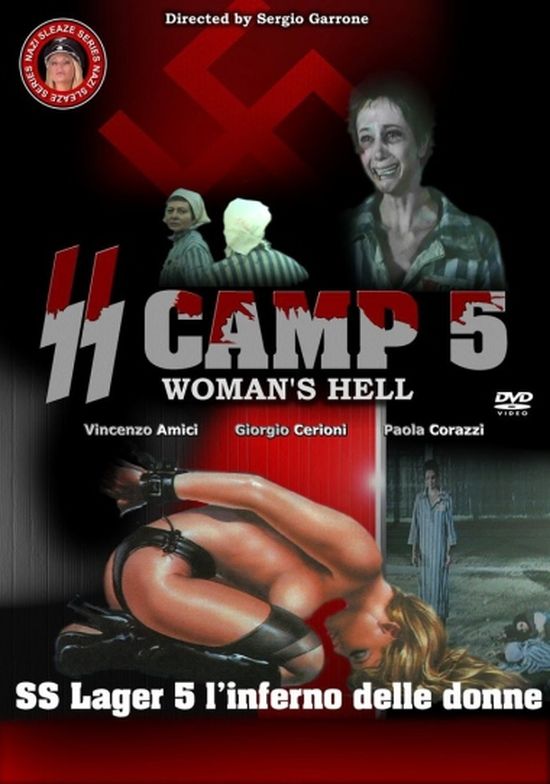 Year: 1977
Duration: 01:36:00
Directed by: Sergio Garrone
Actors: Paola Corazzi, Giorgio Cerioni, Attilio Dottesio, Paola D'Egidio, Rita Manna, Vincenzo Amici
Language: English | Italian | Russian
Country: Italy
Also known as: SS Lager 5: L'inferno delle donne, SS Camp: Women's Hell, SS Lejr 5, Roses rouges pour le fuhrer, Holocausto Num Campo Nazi, Gynaikes stin kolasi ton S-S
Description: Concentration camp's inmates, those who prettier, were given to the officers in a brothel, whose ugly – to fanatic doctors for experiments. A group of women preparing an escape, ss officers uncover their plan and repression followed.  Red Army's arrival stops nightmare hell.
Review: The film tells of the atrocities of Nazi experiments on women. As you know, the female body is physiologically stronger than men, so a very large share of experiments the Nazis put it on women.
Graphic violence, experiments and bullying women found hard and cruel, so nervous to watch is not recommended. But as always, the film has a place for heroism. The film depicts how strong is the feminine spirit and that it is very hard to break.
Very strong contrast between the scenes are very violent and very boring. Therefore, until the middle of the movie may look boring and not very interesting, but as the story erupted more interest.
Review #2: The Second World War. One of the most violent films of Nazi theme. In the camp brought a group of women prisoners. Most interesting are needful camp authorities, on the other conducted sadistic experiments – incendiary effect on the living body without anesthesia, work out methods of operations (again, without anesthesia!). You can try to run away from there, still alive in the camp did not leave anybody, that's just one group of fugitives, accidentally falls into a crematorium oven, where they were burned alive, and those who helped them, slowly killed by brutal torture (crushing of the head, pulling language zasovyvanie burning sticks feet, etc.). By approaching the camp allied troops and prisoners waiting for destruction. That's just at the moment when the shooting starts, prisoner can obtain weapons. Starts firing, suddenly the camp shells exploding suitable allies and the Nazis fled in panic, forgetting about the survivors prisoner …
Review #3: It seems that the film, released a year after the «Lager SSadis Kastrat Kommandantur» Sergio Garrone shot simultaneously with the breathtaking Guignol. In any case, in the same scenery, with the same (mostly) cast, and even with the same characters. At the very least, a good Jewish doctor Abram not only risen from the dead, but also got a daughter. In general, the desire of producers to save on props and scripts here clearly goes beyond decency. And Sergio Garrone seems this time worked without much inspiration, removing standard and impersonal nazisploitation-movie for a long time prepared and tested patterns.
Continuing shameless mockery of everything and everyone did not follow all the figs were taken out of the pockets, and the director, and if made fun of his audience, and then stealthily into a fist. However, the fact that «SS Lager 5: L` inferno delle donne »used all possible and impossible genre cliches suggests that a sense of humor Signor Garrone not lost – after all" chase blizzard "a variety of ways. Another thing is that the last time he appears to not hold back any of the frame. That's got kind of a "masterpiece" of the local landfill. And here – just consumer goods to "mass consumption" very unpretentious audience, which no zhist not guess that he was abused the most perverse way.
So, in the «SS Lager 5: L` inferno delle donne », as in the previous film, Garrone, inhuman medical experiments carried out under the guidance of a Jewish doctor forced Abram. The second half of the camp just as a brothel for the SS leadership. So, the audience will be offered options a la «Salon Kitty" and "Women Behind Bars" in one bottle. Horrible torture and voluptuous sighs, of course, included. Tragic lyuboff between prisoners and a German officer, too – no stamp should not be overlooked. What we have there is there? Escape, rebellion, retribution nasty sadists – well, what you would do without it. So imagine the director with a sly smile makes his characters go through all the stages of a computer game … Stop! What computer games in the 76th year? Yet. Most «SS Lager 5: L` inferno delle donne »recalls filming even toys, and its original, who plays Sergio Garrone. And the actors – no more than the Persians, with whom you can do whatever you want. For example, Dr. Attilio Dottezio leave Abram and Patricia Melech of esesovok razzhaluem a capo, Serafino Profumo raise of NCOs to lieutenant, well, let it stay Giorgio Cherioni commandant, so be it. Variable staff, as it would type the new – that person does not become familiar. Although some people can be and leave … Well, go ahead! Play, I do not.
Unfortunately, follow up on someone else's game – it's not particularly interesting. All because, in principle, known in advance, and the characters do not commit any gag. Here «Lager SSadis Kastrat Kommandantur» was another matter. And here, even paying tribute to Sergio Garrone brand of irony, I must admit that the movie got boring.
Screenshots:
Trailer:
[flashvideo filename=/wp-content/uploads/Video/SS_Camp_Trailer.flv /]
Download:
SS Camp 5: Women's Hell (English language)
SS Lager 5: L'inferno delle donne (Italian language)
SS Camp 5: Women's Hell (Russian language)