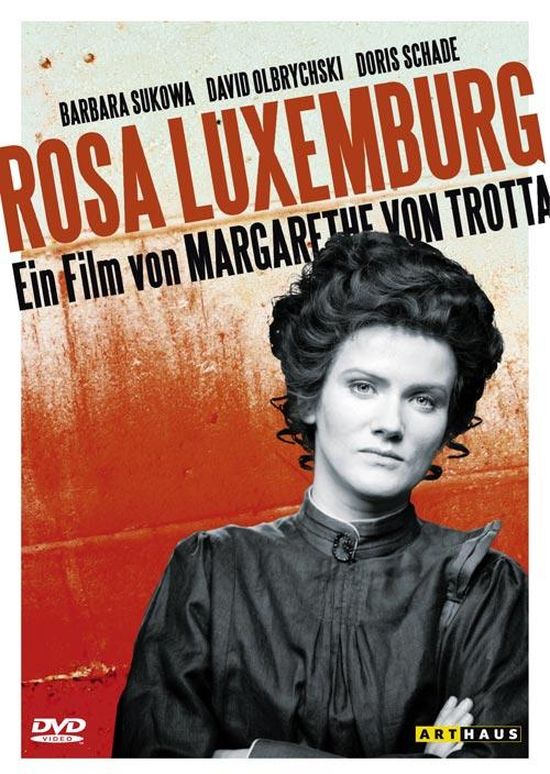 Year: 1986
Duration: 02:01:47
Directed by: Margarethe von Trotta
Actors: Barbara Sukowa, Daniel Olbrychski, Otto Sander, Adelheid Arndt
Language: German
Country: Czechoslovakia | West Germany
Also known as: Die Geduld, Róza Luksemburg, Rosa L.
Description: Turn-of-the-century revolutionary Rosa Luxemburg seems to have had only two hobbies: making firebrand political speeches and being thrown into prison.  I've never seen a character (real-life or otherwise) in a film that was so dedicated to a cause with the result that it became her entire life.  Dr Luxemburg's manifesto is pretty straightforward: she doesn't subscribe to the riot-in-the-streets school of revolution but aggressively campaigns for peace by trying to persuade everyone to lay down their tools or their arms and prevent the war which is constantly threatening Europe.
But if you stick your neck up too far, someone's going to chop it off, and 'Red Rosa', or 'Bloody Rosa', who isn't the type to compromise on her hardline stance, becomes too loud and too well-known to be left alone.  There's no rest for this woman, shuffling (later limping) about with a battered suitcase from one place to another, sheltering with comrades, avoiding the authorities…after a while one almost hopes she'll be put in a prison cell somewhere just so she can take some time out and unwind.
A true story with an inevitable, but nevertheless still chilling, conclusion – this'll be of interest mainly to people with a bent for political/historical/arthouse/German cinema.
Screenshots:
Download: