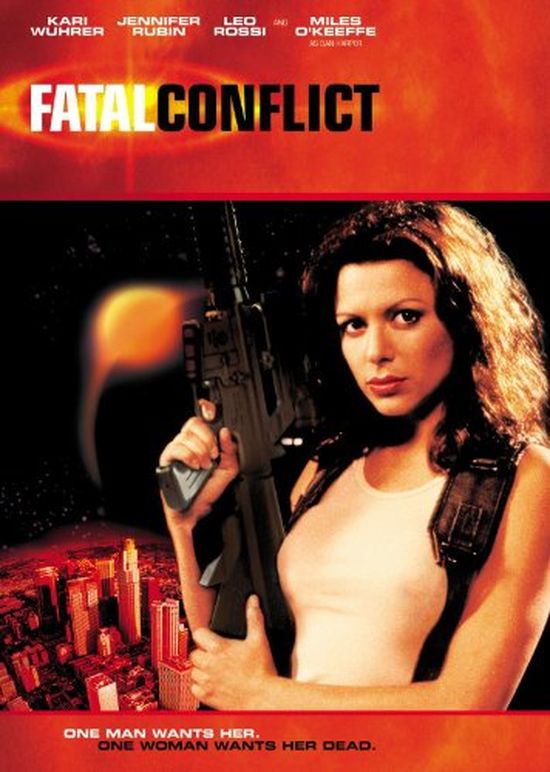 Year: 2000
Duration: 01:31:37
Directed by: Lloyd A. Simandl
Actors: Kari Wuhrer, Jennifer Rubin, Leo Rossi, Miles O'Keeffe, David Fisher, John Comer, Martin Hub, Petr Drozda
Language: English
Country: Czech Republic | Canada
Also known as: The Prey, Conficto fatal
Description: Just because she's cute, doesn't mean Kari Wuhrer can't kick ass.  Kari is the rebel heroine and chief ass kicker.  Leo Rossi and Jennifer Rubin are the deadly duo with the "kick me hard" sign posted to their posteriors.
From director of Cries of the Innocence and Slave To Love
As the back of the DVD box cover boldly proclaims: "IT"S THE FUTURE"…and by all accounts the planet is ruled by the Emperor Lloyd Simandl.  As such, the following principles apply:
1) Space colonies will host prison cells stocked with Slavic cuties in panties and thongs.
2) If you assume power in the world of Simandl, you just can't be looney enough. Thus, the brother-sister team of Rossi and Rubin intend to crash a spaceship into Los Angeles.  Doh!
3) Outer space must be a hotbed of kinky sex.  Not satisfied with plotting a bad day for L.A., the aforementioned siblings spend their leisure time cultivating an incestuous relationship.
4) Hired henchman are forbidden to have an IQ higher then your neighbor's bulldog.
In summary, this motion picture is a masterpiece from the cinematic oeuvre of Lloyd Simandl.  It's serious entertainment for serious people.
Fatal Conflict is ripped from a CityHeat 1:33 DVD.  Since it was probably intended as direct-to-video fodder, the aspect ratio appears correct.
Screenshots:
Trailer:
[flashvideo filename=/wp-content/uploads/Video/Fatal_Conflict_2000.flv /]
Download:
Get a high quality DVD or Blu-ray: