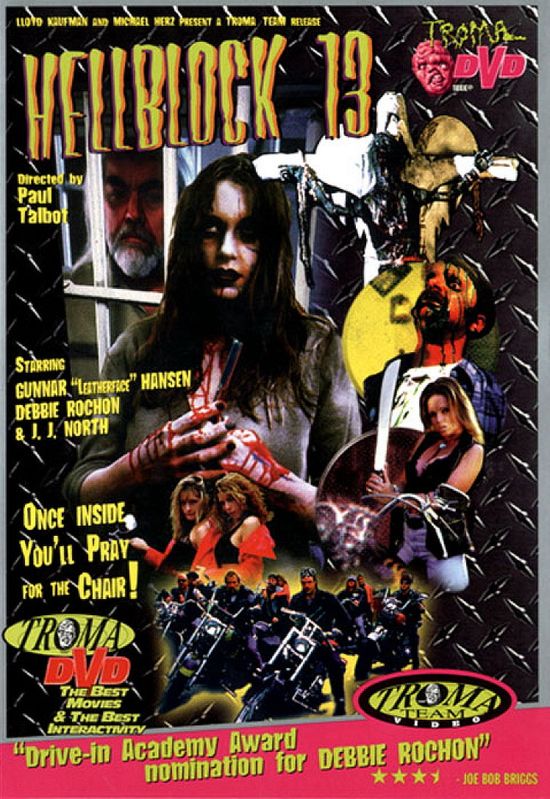 Year: 1999
Duration: 01:30:40
Directed by: Paul Talbot
Actors: Debbie Rochon, Gunnar Hanson, Roxanne Michaels, Jon Miller, Brian Kelly, Jeff Jordan, Amy R. Swaim
Language: English
Country: USA
Also known as:
Description: Women's prison for those sentenced to death. The local butcher courting the camera and goes to Tara (Debbie Rochon who also played in Red Lips: Bloodlust film), whom everyone called a witch, for the fact that she killed many children. Now the warden is looking forward to the moment when the switch will be able to click on the electric chair, which is roasted in this filth. But Tara is not afraid of death comes, but just the opposite – waited impatiently. And while she has decided to share with my future executioner own works: Open diary and began to read out the three horror stories …
Review: Hellblock 13… Over the last ten years it has become fashionable to make movies with uncountable budget. Not so important is the scenario, because most predictable pattern for millions of spectators are blockbusters. And the creators of these tapes apparently believe – the more zeros, the more chance of success. Cheap movies remain in the background – like home and you can see
Limited rental cost and thrash movie late 90's from Jeffrey Miller (Vampegeddon) – "Hell Block 13." And recently published in rolling film "Lords of Shadow" is too much like him
Plot
It is worth noting that the "unit of Hell" – representative of the low-budget trash films. So do not evaluate it on a par with Hollywood horror film. The plot, of course, full of cliches and predictable actions of the characters, but nothing beats the atmosphere of the film. Photo quality really remains high – not luxury accommodations and expensive makeup. If not for the mystical basis, the movie would be like quite a documentary opus.
The cast is small, but the favorite thrash producer Debbie Rochon, inimitable. Throughout the action admired her character, seems to be a normal person, but not so well understand her feelings. Gunnar Hanser bad, appeared in the film as a listener and a hard critic
Typical, but enduring "HellBlock 13" after watching the left a pleasant aftertaste of despair ….
Screenshots:
Download: