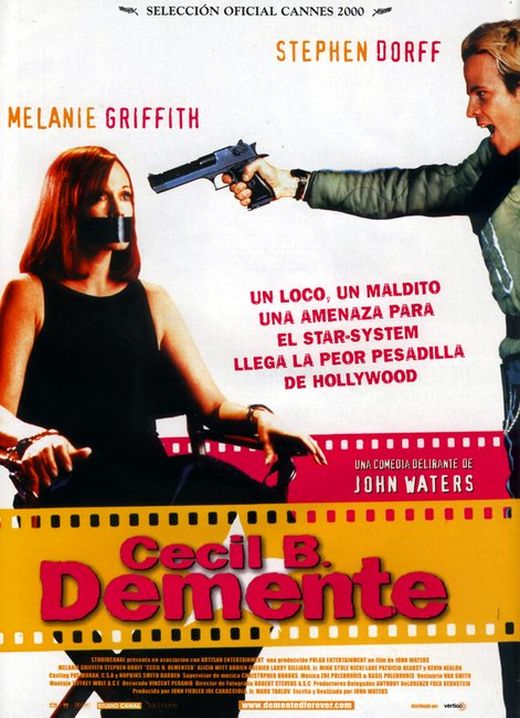 Year: 2000
Duration: 01:27:44
Directed by: John Waters
Actors: Melanie Griffith, Stephen Dorff, Alicia Witt 
Language: English
Country: France,USA
Also known as: A morte Hollywood
Description: At day Sinclair Stevens is a solid theater director. But at night he becomes a mad Cecil B. – an underground filmmaker and idol for gangs of cinematography. He wants to make his film, and no one can stop him!
Not a moment's hesitation, he organized the kidnapping of a famous Hollywood actress Honey Whitlock, by the plot of the movie she must suit riots at theaters, where are all the Hollywood hits, and organize other fights in public places.
Forced to play in the film, which is filming in "as close to reality" style, she has gradually become similar with other actors, and one of the kamikaze soldiers convinced to war against bad movie.
Review: If you had a dream, for the execution of which you will do anything that you would be able to go against all of Hollywood? After all, your dream – it's just a movie, do you think is brilliant. Thinking on this issue, I realized that Mad Cecil – this is the man you want to take an example to all young directors. He has a goal, he has followers, he has a dream. And he will not stop at nothing to remove it.
The plot of the film is simple genius. Yes, yes, it is simple and brilliant. Crazy atmosphere of the film, that is the same as the heroes. All run somewhere under insanely great music. Finally a bright, exactly spectacular. The film – a masterpiece in terms of setting the plot. All stylish, tasteful, crazy!
Mad Cecil B. – film, which became the three people best role in the movie. Melanie Griffith got used to very precise role reborn actress. Moreover, of the Hollywood star she became a star of films from the underground. But it made her character even more famous. Stephen Dorff's brilliant in its image. Hairstyle, gestures, facial expressions, even the attitude is that it is difficult to believe that he's an actor, and I mean in life is a completely different person. Maybe Alicia Whyte – this role is not the best, but is the best of those films that I have seen with the actress. In this movie, it is a very unusual way. But you make it out of the porn actresses real person who wants to do his crazy love.
Mad film, which is all crazy: crazy actors whose images were created, probably in a position not very adequate, the mad scene that was created is also not in the best condition of brain activity, but it only makes the film really brilliant . You can watch a few times, each of which may or may not bring anything new, but it sure will give energy boost for the day!
Review #2: In Zero's infamous director John Waters practically stopped making movies. The only truly noticeable picture of the last decade of this extraordinary director was black comedy "DeMented Cecil B.", which should be seen as a strong slap in the face to Hollywood from all unformatted and underground artists.
The plot of this very interesting picture is Sinclair Stevens, better known as "DeMented Cecil B." – kinoterrorist neformal and dreaming of all means shoot his own movie. The picture on the story and artistic structure resembles early works of John Waters, although in the form of Cecil B., who perfectly played by Stephen Dorff, you can see the features of the director himself, is always outside the Hollywood stream. The film makes a stunning and strange impression, as he filmed in a very contrasting and unusual manner. Photography Robert Stevens perfectly embodied on-screen vision of John Waters, resembling dreams with hard drugs.
In the picture there is a terrific cast, attracting more attention to the film. In addition to Stephen Dorff in the film are busy Melanie Griffith (Lolita), Maggie Gyllenhaal and Alicia Witt (Fun), and permanent actor John Waters – Ricky Lake, Mink Stole, and others. Despite deliberate trash movie, the picture pleases nice visual component and thoughtful black humor.
So, if you like trash and looking for something different, the movie "DeMented" perfectly right for you.
Screenshots:
Download: