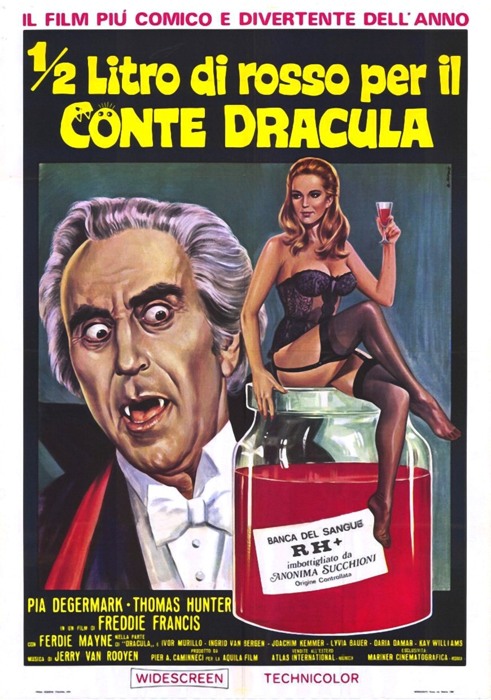 Year: 1971
Duration: 01:44:16
Directed by: Freddie Francis
Actors: Pia Degermark,Thomas Hunter,Yvor Murillo
Language: German(English dub)
Country: West Germany
Also known as: Gebissen wird nur nachts, Happening der Vampire, Ta orgia tou Drakoula, Convenção de Vampiros

Description: Betty Williams is coming home, to Transylvania. She is the niece of the owner of the home. Unfortunately for everyone involved, she is also a look-alike for Clarimondy – a well-known vampire who just passed away. So she tries to set up life in this home (also taking her Romanian name of Elizabeth von Rabenstein) and meanwhile she ends up waking Clarimondy from her sleep. With one going around biting people's necks and the other attempting to cover this up, it makes life for the nearby Monastery, hell. But soon Elizabeth also turns vampirific and now everyone must try to save the town. But beware, because Dracula will make an entrance too!
THE VAMPIRE HAPPENING is pure hokum that is enjoyed by few; It was directed by that well-known veteran Hammer/Amicus director, Freddie Francis, who is also one of the most respected cinematographers of all time. Francis excepted this assignment due to a Hollywood production that went the way of the wind, giving us his most unusual effort (though not his worst film as a director). Most of the toilet humor gets lost in the atrocious dubbing, but Francis is able to mount a handsome production, aided by lavish sets and locations.
Ferdy Mayne (legendary for his performance in Polanski's THE FEARLESS VAMPIRE KILLERS) looks good as Dracula (even making a reference to Chris Lee: "Call me Christopher, I'm sure he won't mind"), but only appears briefly during the frivolous climax.
Screenshots:
Download: