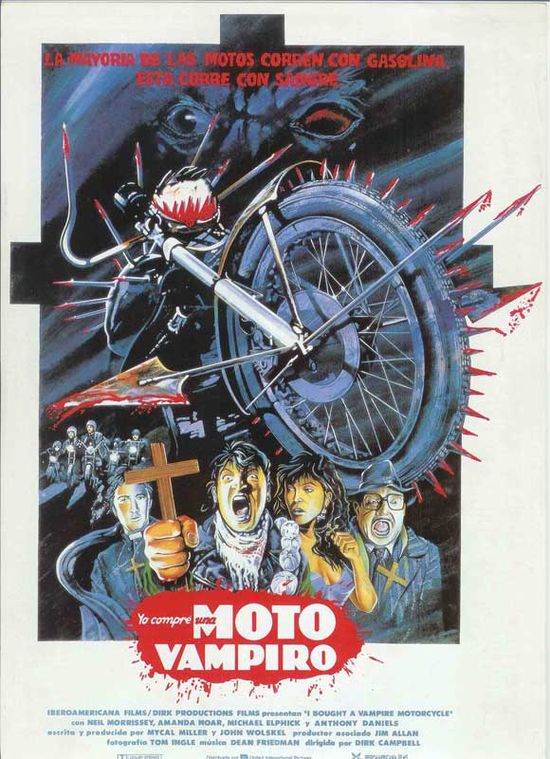 Year: 1990
Duration: 01:40:55
Directed by: Dirk Campbell
Actors: Neil Morrissey, Amanda Noar, Michael Elphick
Language: English
Country: UK
Also known as: Yo compré una moto vampiro, A Minha Moto É Vampira, Iron Thunder
Description: "I bought a motorcycle vampire " for 1990 – a nightmarish horror comedy , which is behind the commercials for twenty years in terms of performance. But for fans of cinema trash , so that initially and thinks he can become one of the most striking representatives of the genre . And considering that director Dirk Campbell is the debut work , the more seriously it is not necessary to treat such "masterpieces" . His goal – to laugh , it performs and how much is everyone decides for himself. You can laugh at the thought that an ordinary bike can be dangerous for adults who are not in his seat . The main character in this regard was not lucky, because the old clunker begins to haunt him, and all the people around him die the most horrible manner.
In a good way , because that's how it happens, looks like some ridiculous parodies itself Troma ! Of course, photographed very primitive , but one and the same stupid music nullifies the effect of bloody fights that uchinyaet demon invaded the proverbial two-wheeled machine. But try to remember at least one film , even at that time , where it was something like that with such a vehicle . Cars and all sorts of mechanisms killer – certainly , but a two-wheeled "monster" from which climb fangs and spikes can be found except in one part of the " Nightmare on Elm Street ", and then only in minute episode. " Motorcycle- vampire " – a very funny comedy thriller in which even interesting to see how the character of the Nile Morisseya trying to get rid of a kind of curse , which in the fire does not burn and does not sink in water .
With special effects , of course, is rather weak , but in this context it went only benefit. The more primitive , the funnier . All metal scene deliberately slow killer and victim extremely cowardly and clumsy . The scene in the gym , where a bunch of athletes rushing around, trying to escape the slowly, slowly rolling the bike with a flashing lamp, incredibly funny . By the way, the timing of 110 minutes big, because such scenes a bit and twenty minutes then pressed unnecessary chatter can be removed easily . Especially because there is no recognizable actors , sets are cheap and all attention should still be focused on the unusual demon. Importantly – the right to take this genre , while viewing pleasure guaranteed.
In my opinion – almost unique comedic thriller with motorcycle – killer in the title role.
Review:
Screenshots:
Download: