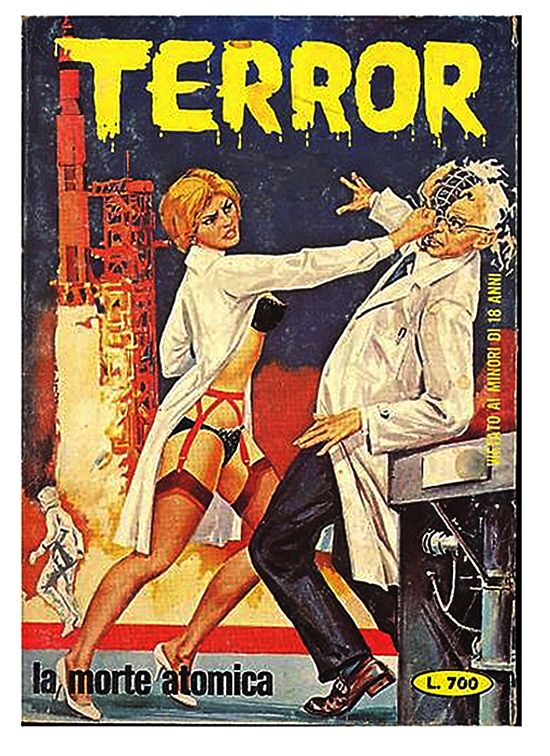 Year: 1978
Duration: 01:24:28
Directed by: Norman J. Warren (as Norman.J.Warren)
Actors: John Nolan, Carolyn Courage, James Aubrey 
Language: English
Country: UK
Also known as: Terror, O Ente Diabólico, De repente, llegó el terror, El ente diabólico, La terreur des morts-vivants, Tromos, Delirium House, Killing House
Description: TERROR is cult director Norman J. Warren's love letter to SUSPIRIA (1977) and BLACK SUNDAY (1960).  In this film, a British movie maker's ancestors are cursed by a dying witch whom they have burned at the stake.  When the movie maker holds a wrap party for his latest film at his ancestorial home, the curse manifests itself, and members of the cast and crew start getting sliced and diced in a variety of creative "accidents".  
"Witch burned at the stake before he died brutally swears revenge on the descendants of his tormentors."
Review: Norman J. Warren – dubious artistic merit director, whose " Inseminoid " ( "Planet uzhsaov ") , despite its total slizannosti , Warren issued as a movie distinctive and like nothing on earth that was , of course, utter nonsense and unheard of insolence . but one of his earlier works – "Terror " – although it can not boast of originality, but their original atmosferku slowly pumps , and therefore looks more profitable alien opus .
Although more beneficial it might look if some of the scenes of murder would not be so unintentionally funny (I understand that when you put pressure machine – language may well fall , but the policeman , who turned in this situation looked quite comical ) and – now deliberately – low budget . Still, Warren , to his credit, tried the whole thing somehow diversify , and it can be praise for it , but ultimately on the level of " a lot of blood , make-up – a little ," he not swerved .
Characters in British cinema , usually make distinctive and bright ( for example – if the original " The Wicker Man "), but "Terror " – this is not the case. Some forgettable and all the local sketchy little people , I do not really understand who to whom a relative , and who – just a friend . Plus action flag is passed from hand to hand with surprising frequency , so we have to admire the first to glavgeroya – uncle , then the dark-haired lady with piercing eyes , and then – and all for the little girl was shot in the lung, I would say even bantamweight porn ( calm – "Terror " – movie chaste , nudity here – the only scene in the nightclub ) . A witch – seizes the spirit of people – I honestly do not understand how and where it could enter – totally random, whose hands committed another murder – is almost impossible to guess .
Music Row, however, came quite sluhabelnym and girls on Actors – comely . And in general, the critical claims the tape is difficult to find – it just kind of , I do not know , twitching – like shooting stable, sane and installation , but there – here – sik – pyk – and questions have been fucking cloud . And I swear to you that it is rare where I have seen such cases , so that the picture broke off – naturally , the film just takes … and ends . Final words ? Groundwork for the sequel? Anything at all? Aw no . Ran out of film – and that's it . Frees , go home .
Curious , but a ragged account of events on a movie about the vicious witch. Goes long, especially in the memory is not wedged – why not . But " Superstition " – another horror movie about the witch – made ​​more vivid and interesting , so if I will secure – I rather will revert to it.
Screenshots:
Download: