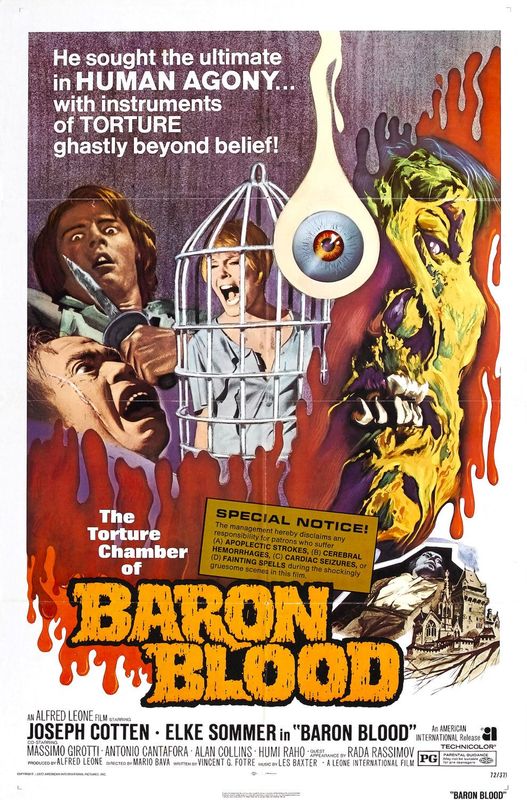 Year: 1972
Duration: 01:37:47
Directed by: Mario Bava
Actors:  Joseph Cotten, Elke Sommer and Massimo Girotti
Language: English
Country: West Germany | Italy

Also known as: Gli orrori del castello di Norimberga, The Torture Chamber of Baron Blood, Baron Vampire
Description: Peter Kleist (Antonio Cantafora – actor from rape and revenge film Midnight Blue) visits Austria to investigate his heritage. He brings with him an ancient parchment with an incantation to bring back his sadistic, accursed ancestor, Baron Blood. What can stop the torturous rampage once Peter and Eva (Elke Sommer) read the incantation and give life to the Baron?
Review: "Blood Baron" is probably the most unscary horror story that I saw from the legendary Mario Bava (the cult italian director of such awesome movies as Road to Fort Alamo and Bay of Blood ). The plot is very primitive and amid many, really scary, bands of the time looks dull and boring.
Pluses of Baron Blood:
1) good camera work, angles always matched sudden and intriguing;
2) really terrible image of the Baron, the actor Joseph Cotten (at that time of course), who rose from the dead because of a ridiculous idea joke – no one's magic with ancient parchment in a terrifying castle where he lived. Students in the film – Eve (Elke Sommer) and Peter (Antonio Kantafora) apparently wanted more imbued with a long and bloody history of the building – this is more than they have;
3) Again, a favorite style of Bava, theatrical and give the viewer away from the reality and experience a mystical story, is that not just the spell lifted the dead man, and is involved in this kind of black magic witch.
Perhaps the film has it's negative sides:
1) funny "replay" of the acting game;
2) any occurrence in the film called frightening – wrong, most likely surprise approaches to a specific scene – yes!
3) scenes of murder do not cause any frightening emotions (most importantly, in my opinion, in such films);
4) The "lyrical" story retreat as usual is not the topic, do not understand the meaning of "razmylivaniya" story – if only more!
5) The music also does not shine in the movie atmosphere.
Screenshots:
Download: