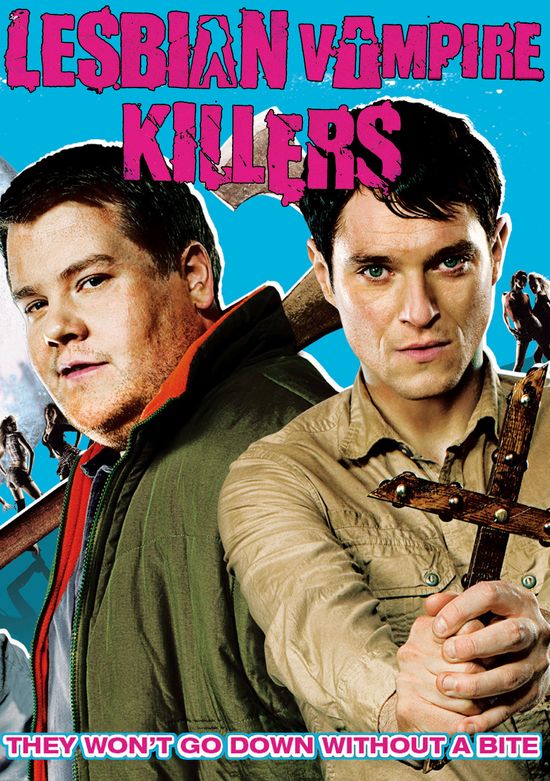 Year: 2009
Duration: 01:26:23
Directed by: Phil Claydon
Actors: Paul McGann, James Corden, MyAnna Buring, Vera Filatova, Paul McGann
Language: English
Country: USA
Also known as: Vampire Killers, Leszbikus vámpírok gyilkosai, Lesbian Vampire Killers, czyli noc krwawej zadzy
Description: What will do two old friends, when one of them was left by his girl and the second was fired from his job? – Of course they will go to the nearest pub and have a good drink. After a few pints and intimate conversation about the meanness of life Jimmy and Fletch decide to go camping and have fun. By the way, they met with beautiful busty female students, and are preparing to spend an unforgettable night, when suddenly … Friends find themselves in an abandoned castle with a hungry army of lascivious beleaguered vampire lesbians. Sexy vampire gang intends to sacrifice them to revive their demon queen. Armed with crucifixes, pans, and the relic sword, the boys decide to sell their lifes dearly …
Review: Well, what can I say… This movie is very familiar with another vampire flick, called I Am Virgin, which was made in 2010. Now let me say some words about "Lesbian Vampire Killers".
This cinema is more like a parody on the horror movies about vampires, zombies and other evil spirits. Is impossible to take it seriously because of this English black humor. By the way, the jokes and acting of the main characters are much funnier and smarter than in others teenage comedies, so you won't have to turn off the film after 10 minutes. It's a low budget project, but the movie doesn't look so terrible, everything is pretty good.
So, the heroes went to a suspicious forest, next to which locates a pair of houses and a bar. Then out of nowhere appeared some slender vampires in beautiful dresses and with colored hair. The first scene of appearance was stripped from "Red Sonja", color and design is one to one. However, the shooting is not so impressive. It starts with some strange stories about lesbian vampires, about their purposes, signs, etc., etc. But since it's all in the parodic manner, you will enjoy the watching.
And  when I just got tired of listening nonsense talks and watching the ridiculous games of vampire lesbians, begins a fun "action" scene in the night forest. It is unclear how, but the creators have managed to create very beautiful scene of fighting between people and vampires.
My word – it's not a bad parody of the theme of destruction of evil,  but only the vampires-lesbians won't be able to scare anyone.
 Screenshots:
Download: