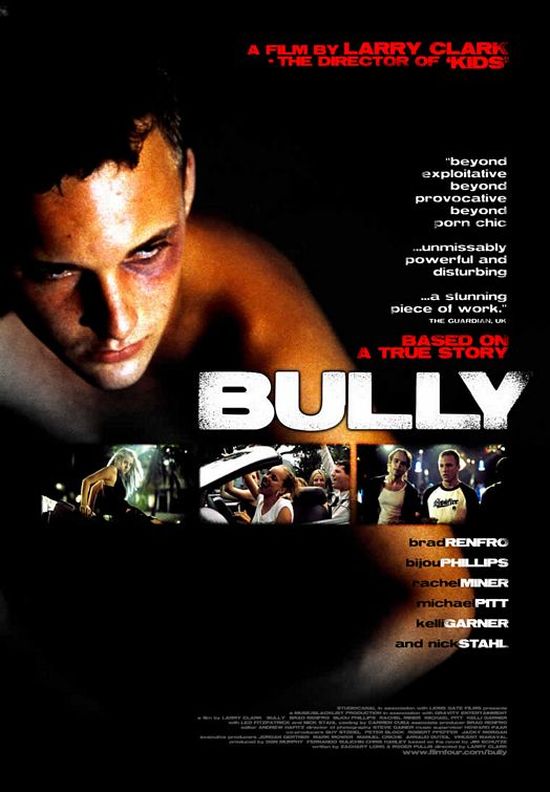 Year: 2001
Duration: 01:47:52
Directed by: Larry Clark
Actors: Brad Renfro, Nick Stahl, Bijou Phillips, Nick Stahl
Language: English
Country: USA
Also known as: Bully – Diese Kids schockten Amerika, Bully – Estranhas Amizades, Genya
Description: Bobby and Marty are friends since childhood. Only they have a strange friendship: pathological sadist Bobby brutally humiliates naive bumpkin Marty. And once "mattress" Marty decides once and for all stop the bullying and … kill Bobby!
Review: Larry Clark loves to make movies about the life of troubled teens. Take for example Kids 1995. To "Bully" I recently came across, and it changed my opinion of such genres. I never saw anything more shocking . And you can't say that this movie is somrthing new.
The protagonist Marty constantly being attacked by his best friend Bobby, who is a real sadist. Throughout the movie sympathy for the poor teenager didn't appear, even pity. He is mattress, not too smart with his problems.
Bobby, on the contrary, is clever and smart. But he solves his problem is a very strange way – bullying. Nevertheless, this is the most interesting and colorful character, not counting junkie Donny.
The film raises questions about the issues of violence. On the fact that for every action followed a response. All the heroes of the murder knew what they were going, and they're not scared.
Screenshots:
Download: