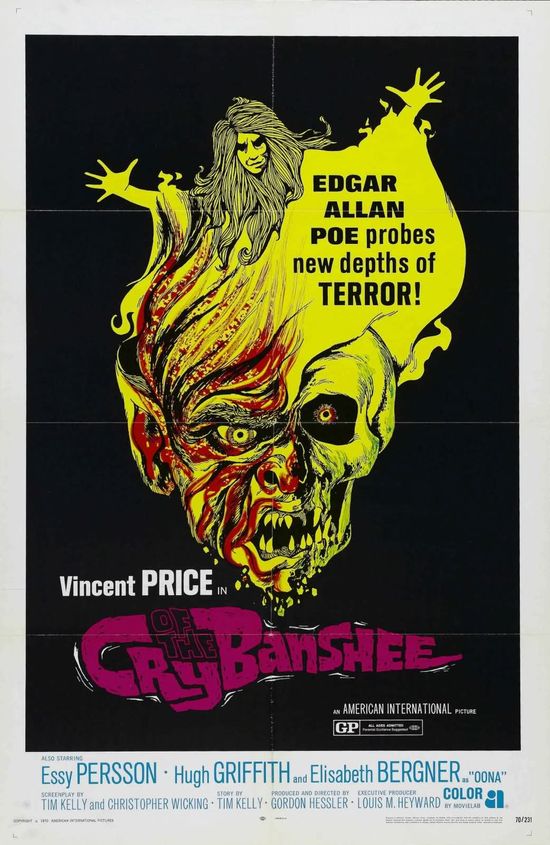 Year: 1970
Duration: 01:31:20
Directed by:  Gordon Hessler

Actors:  Vincent Price, Essy Persson, Hilary Heath

Language: English
Country: UK
Also known as:  De vloek van Satan, El grito de la muerte, Saatanan katse, Der Todesschrei der Hexen
Description: England, XVII century. Lord Whitman leads a bloody struggle with witchcraft, many of the local villages have suffered at his hands. To stop the slaughter, witch Oona The leader calls a magical servant, "banshee", to destroy the whole family of the lord.
Review: Another movie Gordon Hessler and Vincent Price (Dead Heat and Waxwork). In my opinion, the makers of this film have decided to go the way of repetition. Story design is reminiscent of the successful artistic film «the Grand Inquisitor» (there is also starred Vincent Price and Hilary Hit).
Vincent Price again played a cold villain. By the way, this role is an actual continuation of the roles in «the Grand Inquisitor» – the characters are incredibly similar. However, it is quite possible comparison with the «Mask of the red death» and «the Well and the pendulum» Roger Corman. In essence, these tapes about the destructive power.
As in «the Mask of the red death», «Cry of the Banshee» rises talking about crime and punishment, retribution for their acts. The film will be shown pastime one of the influential landowner and the head of a large family. Arranging permanent bloody orgies he likened the Prince Prospero (well you can, of course, read the «Mask of the red death» by Edgar Allan PoE) and heroes de Sade.
This time, the punishment will come from the Banshee – mythical creature, caused by the curse of the witches.
Screenshots:
Download: