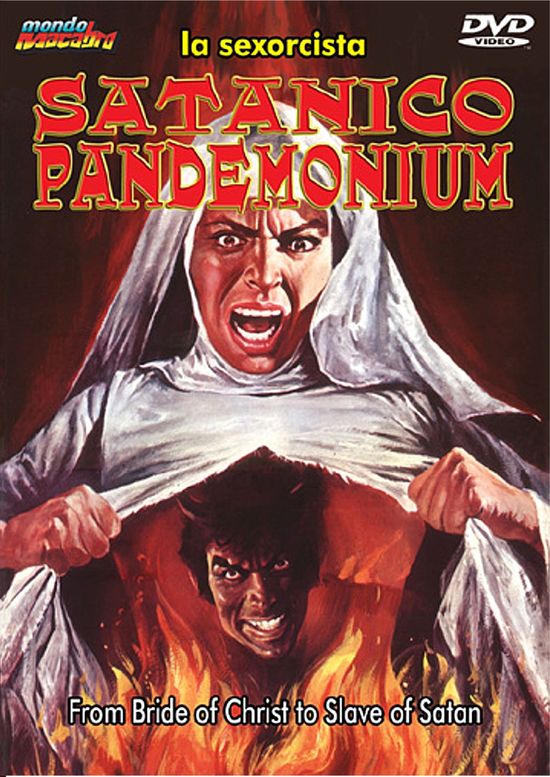 Year: 1975
Duration: 01:28:46
Directed by: Gilberto Martínez Solares
Actors: Enrique Rocha, Cecilia Pezet, Delia Magaña, Clemencia Colin, Sandra Torres
Language: Spanish
Country: Mexico
Also known as: Satanic Pandemonium, La sexorcista, La novizia indemoniata
Description of Satanico Pandemonium: Pious nun Maria once met a naked devil on the river side. He offered her a taste of the forbidden fruit, but she ran away, under the arches of the mother monastery. Grain of doubt, however, crept into her soul, and soon Mary became to sin. First she had sex, and then it came up to the murder. Sinister Lucifer knows his business very well, and soon Maria signs a contract in which for her is granted the post of abbess, but for a brief moment of triumph girl has to pay her life …
Exotic cult horror . This time from Mexico. In sub-genre nunsploitation worked many classics and Joe D' Amato (Satan's Baby Doll and Convent Of Sinners flicks) and Jesse Franco, and many others. others. The film is directed by a little-known to the general public – the best . In the center of the plot – a nun, of course, sells his soul to the devil in exchange for a prioress of the monastery. Fulfilling the contract , it does insane violence and corruption ( particularly notable scene of bloody killings failed her teen – lovely , politically correct 70 ) . The most striking scene in the film is an orgy , organized by the nuns in the monastery . The scene is not only distinctive in this genre. And it is not so important, the main character will have to pay the price on the black deal or not. The gloomy atmosphere , unusual style and acting is where the plot is remarkable .
Hackneyed plot found banal realization. Cool delivered a film with a beautiful Cecilia Pezet.
A very original and rare classic horror film , which should be in any movie collection . The audience of the mass audience hardly know about this film , so if the word Satanico Pandemonium and will cause them any association , it is only with the famous movie vamp – Rodriguez and Tarantino.
Screenshots:
Download: