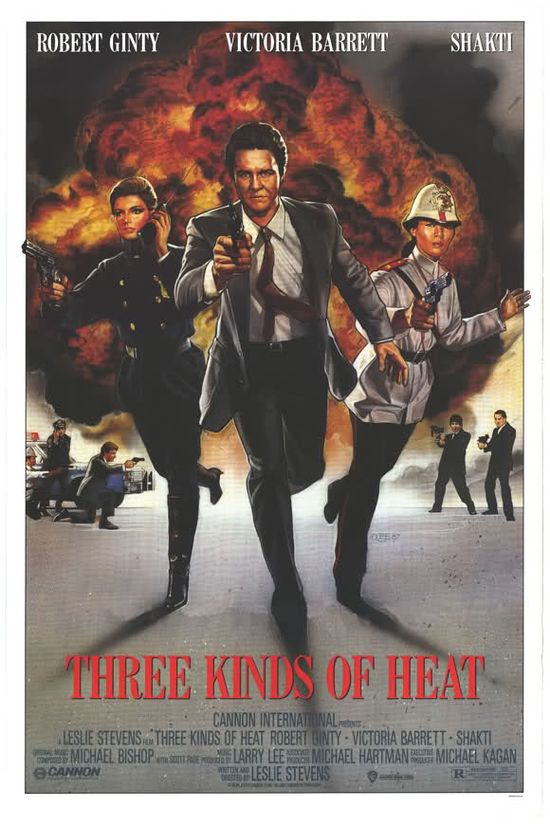 Year: 1987
Duration: 1:26:34
Directed by: Leslie Stevens
Actors:  Robert Ginty, Victoria Barrett, Shakti Chen
Language: English
Country: USA
Also known as: 3 Kinds of Heat, Musta leijona, La banda del fuoco, Hetta, Fireworks, Drei abgebrühte Supercops

Description: Sometimes it's best to leave family disputes alone.  But not when it comes to the globe-spanning ching-chong Chinese mafia!  That one, big, unhappy family airs its differences by wasting itself…and anyone standing in gun range.  So when the Oriental underworld initiates its latest family feud with a wild, kill-crazy New York shoot-out, Interpol officials waste no time in assigning a trio of hotshot cops to the case.
The code name is "Operation Fireworks".  And that gives you some idea of the incendiary excitement in store as the three crimefighters track the elusive syndicate czar on a zigzag trail of danger, deception and double agents that stretches from grim New York ghettos to the high-gloss London whirl of ultra-chic fashion.
Along the way, the crimebusting partnership can't help but cook up some sizzle of its own — with fervid jealousies, confrontations and even romance [shock!]. Cool-fire Secret Agent Elliot Cromwell (Robert Ginty of The Exterminator) singes his savoir faire when he hooks up with two red-hot, no-nonsense cops who are both six feet tall, tough, smart…and incredibly beautiful (Victoria Barret of 3000 A.D. and Shakti of The Golden Child).  Fire up with all the action, thrills and excitement of Three Kinds of Heat!
Screenshots
Download