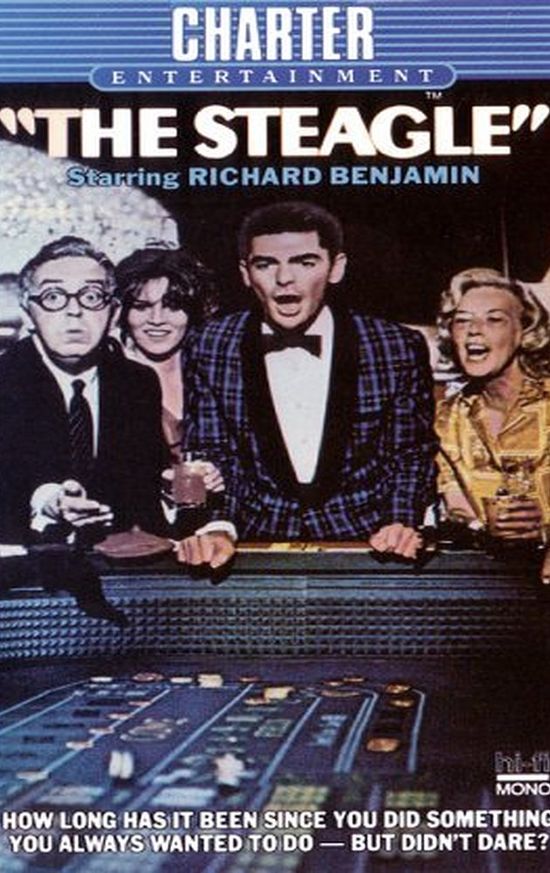 Year: 1971
Duration: 1:30:25
Directed by: Paul Sylbert
Actors: Richard Benjamin, Chill Wills, Cloris Leachman
Language: English
Country: USA
Also known as: The Steagle
Description: Cranky college professor Richard Benjamin – referred to as "our liberal" by the dean of his department – uses the onset of the Cuban Missile Crisis as an excuse to set out on a cross-country trip and re-invent himself. He pretends to be a cigar-smoking businessman, then a serviceman on the make, then a retired flyboy turned Hollywood consultant, and then the real-life model for Andy Hardy. Inevitably, he ends up blowing up a movie set alongside Chill Wills.
Key scenes: Benjamin demonstrates his useless brilliance—and gives the movie its title—in the opening scene, where he recites trivia about the short-lived wartime pro-football team the Phil-Pit Eagles. Later, he listens to President Kennedy's Cuban Missile Crisis address on the radio while parked at the airport with a female colleague (whom he proceeds to screw, while thinking about mushroom clouds). The next day, he storms into his classroom and gives a rousing speech about Willie Mays' MVP credentials.
Can easily be distinguished by: The post-Graduate tone, which aches to comment on social conformity, but is undercut by Neil Simon-style quirkiness and a turgid pace.
Sign that it was made in 1971: Though it's set in 1962, the "Hey, man, drop out" message is aimed squarely at the hippie crowd. But compared to the imaginative, energetic films coming out of Hollywood's youth-exploitation mill in the early '70s, The Steagle feels like an actual relic of the Kennedy era.
Timeless message: The absurdly overprivileged will only be happy when they get to abandon all responsibility and do whatever they want.
Memorable quotes: Using his made-up memories of the destruction of Hiroshima as a come-on to a bosomy lady in Las Vegas, Benjamin gestures at the desert and sighs,
"All this nothing… reminds me of Hiro."
Screenshots
Download