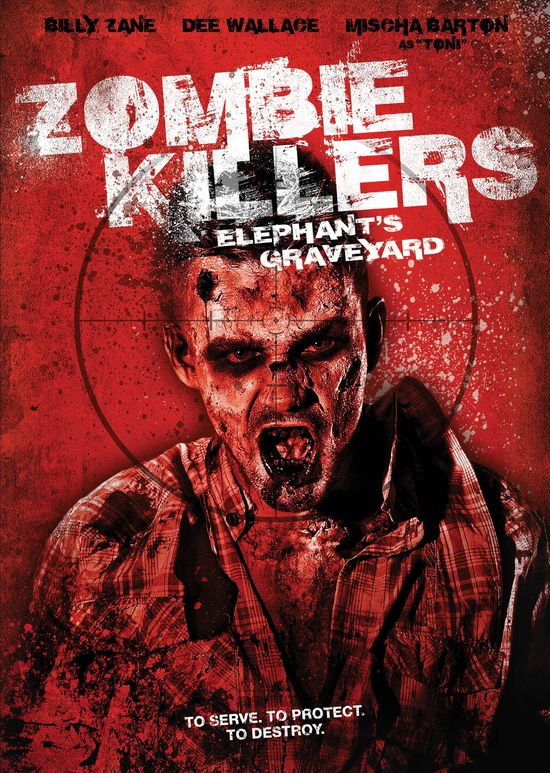 Year: 2015
Duration: 01:43:50
Directed by: Harrison Smith

Actors: Mischa Barton, Billy Zane, Dee Wallace, Felissa Rose, Brian Anthony Wilson, Gabrielle Stone, Mark Behar, Brian Gallagher, Christopher Weite, Adam Ginsberg, Ashley Sumner, Joe Raffa,
Michelle Jones,Michael Kean, Dan McGlaughlin
Language: English
Country: USA
Also known as: ZK: Elephant's Graveyard, Zombie Killers

Description: The countryside is fenced off from the outside world the result of a zombie plague. They protect the killer zombies. But the world didn't seem the same and new discoveries. Even more awful.
Zombie killers: elephant Graveyard, this film is a live example of how degraded this subparagraph horror movies, zombies. I'm a big fan of this genre and especially zombies, reviewed a lot of films with this genre. And of course very sad to see on such a degradation. This film disappointed me greatly, and the reasons are many. Let's discuss everything in order. And first what we go through, is the Director. Made this film Bruce Smith, the identity of the unknown, it's true. And his other creations are not known, but one thing is for sure, he is familiar with the horror genre, well, unfortunately that did not remove nothing good. This film is no exception, I think that's all you can say about him. Go to the main points, evaluation of the film.
The plot(3 of 10). You could say the story here is particularly present. Neogoveidae a lot more small mistakes well, and I would like to mention the ending, it is not at all clear. In short, the plot is disgusting.
Atmosphere(5 of 10). Because of the disgusting story, of course, expect no special atmosphere, no, of course there are films that despite a bad story, was chosen for its atmosphere. But alas here the atmosphere does not help. Nope, nekakogo voltage, unexpected moments, even the screamers, usually what scare us the Directors. What betrays the atmosphere? Probably only blood and meat, this item is made well, although of course it is clear that too little.
Music(4 of 10). The music here is absolutely forgettable. She's just there and all. Nothing more adds. Of course there are also sounds that probably kept the sub-level.
Graphics(7 of 10). Graphics is probably the only point which pleases in the film. Of course there is nothing top secret there, well it is present. Though of course if the film of 2015 wasn't the graphics, it would be very bad, but here it is.
Acting(6 of 10). The actors are not too pleased with, only two, three actors played well, but still not perfect. And the rest is better to remain silent.
Voice(2 of 10). The voice acting in the film is disgusting, is present only one voice that speaks for everyone starting from children and ending with the male sex. The voice of men, but not pleasant.
The result, I do not advise to viewing. The whole movie looked, with a straight face, there is nothing terrible in it did not see.
Screenshots
Download