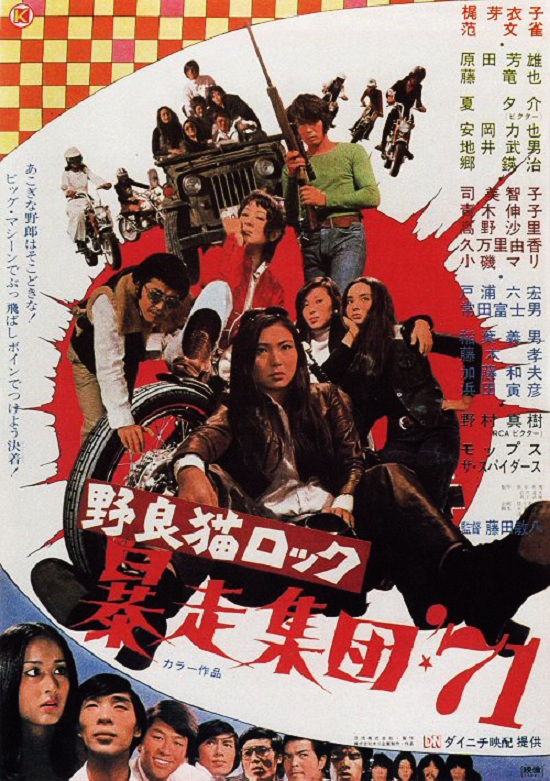 Year: 1971
Duration: 87 min.

Directed by: Toshiya Fujita
Actors:  Meiko Kaji, Takeo Chii, Yoshio Inaba
Language: Japanese | English Subs

Country: Japan
Also known as: Stray Cat Rock: Crazy Rider '71, Nora-neko rokku: Bôsô shudan '71
Description:  'Beat 71' is the last entry of the Stray Cat Rock series, comprising of five movies in total. While the first, third and fourth were directed by Hasebe in a dark and gritty city movie style, the second and fifth were directed by Fujita in a brighter countryside style, less seriously, but I actually prefer these two over the other parts of the series, they are simply more fun.
'Beat 71' tells us about Furiko (Meiko Kaji) and her boyfriend Ryumei (Takeo Chii), who is the son of a mayor. The politician thinks his son should continue his business career instead of hanging around with hippies. He has the two abducted and throws Furiko in a cell so she will no longer distract Ryumei from work. Their hippie friends however make a camp in front of the mayor's house, let a rock band play there and announce loudly they will stay until they get Furiko back. The mayor lets them drive out of town by the police, so they hide in a western town. Now all depends on Ryumei…
Very entertaining flick with a lot of bizarre western movie influences, for example when a guy starts his motor-bike, you don't hear an engine, only the hooves of a horse. Meiko Kaji of 'Lady Snowblood' fame unfortunately has a rather simple role that does not allow her a memorable performance. But the team effort is convincing.

Screenshots
Download
Stray Cat Rock – Beat '71 (1971)