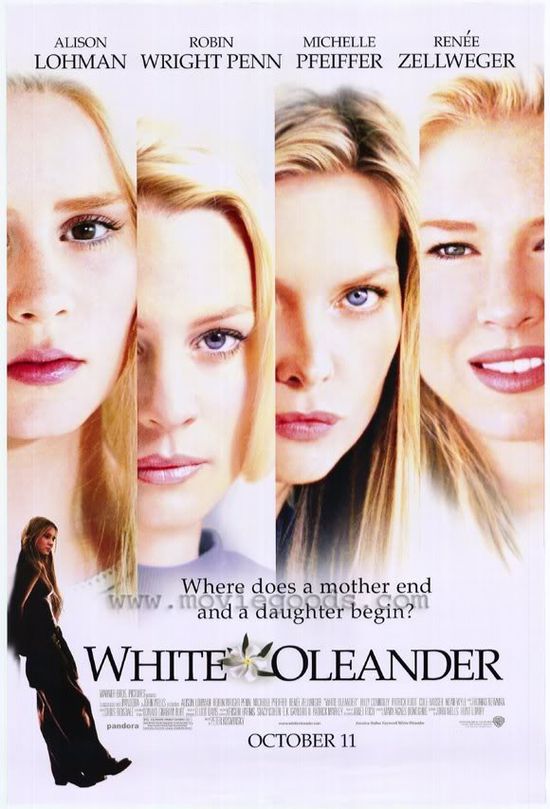 Year: 2002
Duration: 01:49:30
Directed by: Peter Kosminsky
Actors: Michelle Pfeiffer, Renée Zellweger, Robin Wright, Amy Aquino, John Billingsley
Language: English
Country:USA
Also known as: Laurier blanc, Weißer Oleander, Белый олеандр, La flor del mal
Description: Carefree and happy life of a young California girl Astrid and her mother Ingrid once turned back with appearing of a man, the enigmatic Barry Kolker.
The passion that erupted between Ingrid and Barry, soon left her with a broken heart and a broken life. Revenge is embodied in the crimes committed by Ingrid, poisoning beloved poison his favorite flower: White Oleander …

From director of incest drama No Child of Mine
Review: It turns out that drugs are common oleander leaves are used in medicine for disorders of the cardiovascular activity. But the poisonous flowers of white oleander related Wolfberry were used forty years of the artist Ingrid Magnussen in order to poison had thrown her lover, for which she received a prison term of 35 years. And her fifteen-year-daughter Astrid, too fond of drawing, forced wandered through the adoptive parents, not finding happiness and remain under the strong influence of the mother. Perhaps the dating scene in the prison yard, when still looking beautiful and proud woman watching with curiosity or concern for the ongoing changes in the shape and lose his own daughter, she is still trying to manipulate should be assigned to the most successful in this picture.
Hollywood star Michelle Pfeiffer bravely gives his uncompromising character who would not want to give up and continued to fight hard with merciless fate, a series of rigorous and ruthless views. And in the moment of encounter with one of the Ingrid "temporary step-mothers" – a failed actress Claire Richards, she seemed to exude outside their pernicious poison. It is no accident that Astrid and blames his own mother that Claire then committed suicide, realizing the inadequacy of his own life. Ingrid if pushed her to make this decision, consumed with envy and jealousy, not wanting to lose custody of daughter from the power that is felt even at a distance. In another episode, the closer to the finale, the mother with the same ruthlessness, but in relation to himself, for the first time recognized the hidden motives of this desire to control every step implicitly Astrid and repents of frivolity and carelessness manifested in his youth.
But two dramatic "moments of truth" not quite enough for almost two-hour tape that now and then slides down the well-trodden path melodramatizatsii stories about the suffering orphan (albeit with a living mother), learn life from the wrong side. It seems particularly odd that the guardianship almost forcibly trying to fuse the girl former drunkard Starr once again taking for the old, when Astrid liked her fancy man Ray, or Russian whore Reena that makes foster children shall trade trading second-hand clothes. And Hollywood family of Richards with external well-being and flashy respectability no different balance and adequacy in actions – do not know what is worse for a teenage mind: to become a target for avenging Starr or be in the morning in bed with a dead body Frigid Claire. However, and own mother did Astrid unwitting accomplice to murder, driving with her to Mexico for a white oleander, then to mix a potion of his former lover.
That film White Oleander, like the young heroine, is torn between different versions of events, not knowing where to stick: a true drama of human character or deceptively heartbreaking melodrama in which the logic of life should be sacrificed to the needs of the genre. However, from a Hollywood happy ending still can not escape – and here the authors of "White Oleander", allegedly threatened to such a movie, which would be a breakthrough beyond the stability and to staunch the blocks next Big Picture, showing their conservatism, adherence mnogazhdy reliable rules. In this case looks much more preferable, for example, the film "In the Bedroom", albeit perehvalennaya by the Americans themselves. And "White Oleander" did not even have, in contrast to the best-selling novel, a great response from the public in the U.S. ($ 16.35 million box office – funny as the budget was $ 16 million).
Screenshots:
Download: