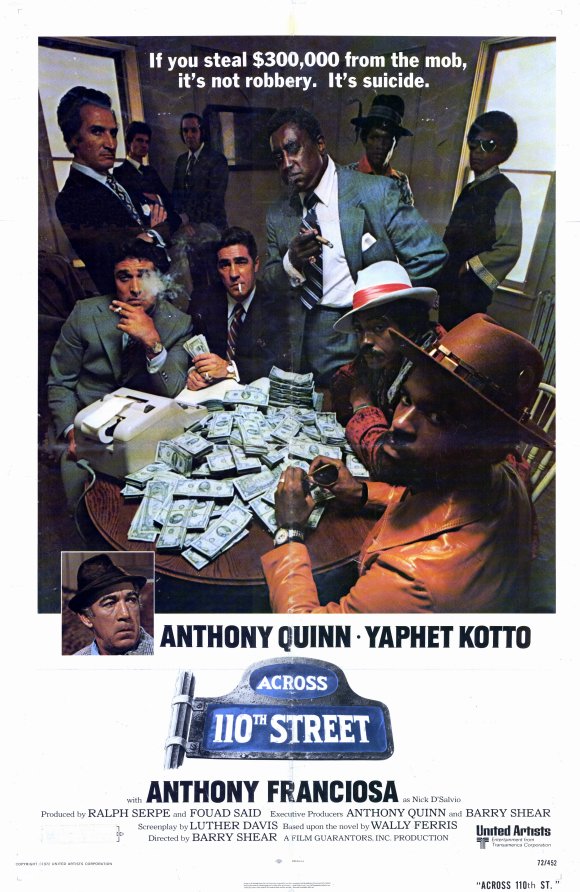 Year: 1972
Duration: 102 min.

Directed by: Barry Shear

Actors: Anthony Quinn, Yaphet Kotto, Anthony Franciosa
Language: English
Country: USA
Also known as: A Máfia Nunca Perdoa, Pánico en la calle 110, Meurtres dans la 110° rue, Rubare alla mafia è un suicidio, Straße zum Jenseits

Description: Two New York City cops go after amateur crooks who are trying to rip off the Mafia and start a gang war.
This movie sweats. Early on in the mostly pandering "blaxploitation" film cycle of the seventies, came this incredibly violent, hate filled drama of three small time crooks who stumble on a big score and their hopeless attempt to survive it. The film is utterly dark and features nary a cheap shot or moment of easy cynicism.
In one scene Anthony Quinn and Yaphet Kotto go to the apartment of one of the crooks lovers, already slain, to look for information and break the news. This is one of the most heartbreaking scenes ever put on film, a model of restraint and economy in a film that is busting at the seams. Actors who were probably barely in another movie give magnificent performances. The neglected Kotto was never better.
A very disturbing film that demands to be seen; art. ~ IMDB
Screenshots
Download