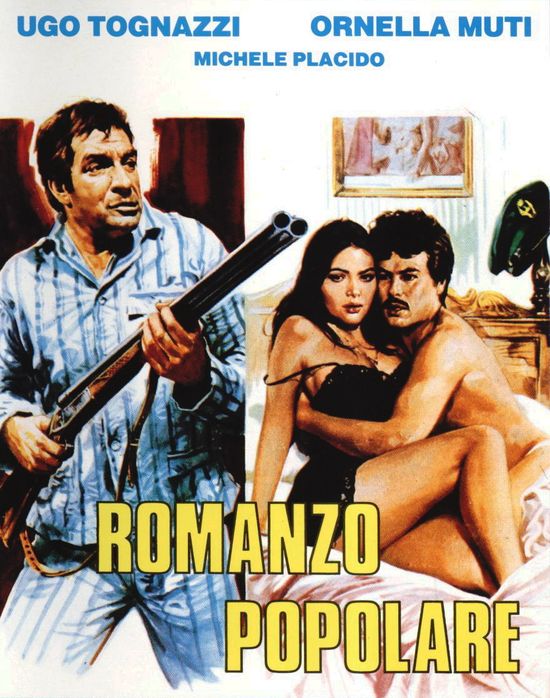 Year: 1974
Duration: 01:41:43
Directed by: Mario Monicelli
Actors: Ugo Tognazzi, Ornella Muti, Michele Placido
Language: Italian
Country: Italy | France
Also known as:  Come Home and Meet My Wife, Romance Popular, Romances et confidences, Apasionada

Description: Engineering Milan hinterland, fifty and a bachelor, married a girl from the South, but comes "at the barrel of gas" for the pain when he discovers that he has cheated on him with a police officer and drives south. Tired of being contested between the two as a property, the woman begins, only a little child, a new independent life. Written by Age & Scarpelli (with dialogues in dialect reviewed by Roger Whittaker and Beppe Viola), is a melancholy and ironic comedy that leans toward melodrama. The issues that touch (women's empowerment; impact between North and South; approval behaviors workers) make it a typical national-popular film in the best sense.
Review of Romanzo popolare movie: As for the plot seems to be the usual " love triangle ", as a young wife , has had time to have a baby, once changed her elder husband with a familiar police Giovanni , passionately in love with her ​​. But Vinchentsina really loves Giulio herself confesses his " sin" that was just forced to cede claims pushy young carabinieri . That is how we react as a "civilized man" at random offense trusting wife , superbly played by actor Ugo Tognazzi : transitions from comedy to tears of forgiveness – for revenge , love – hatred . His hero , too loving wife , even willing to come to terms with what happened and forget everything, but received a letter " wisher " who reports that he is horned , Giulio enraged . Fear of appearing ridiculous in the eyes of neighbors makes him instantly forget about his "modernity " and " democracy " – a typical jealous and deceived husband , Giulio rolls stormy scandal , expels Vinchentsinu with a small child out of the house , there is one , taking the fate of this for what it is and decides never to contact with women. But Vinchentsina , and Giovanni , contrary to the expectations of the viewers do not find mutual peace and exist separately from each other. Several more years , during which Giulio occasionally seen with his younger son before Vinchentsina , becoming a master in a sewing factory , give him only a shadowy hope that with time , maybe they have something formed.
It is also important to note that the story of Julio , who sometimes seemed to interfere in the plot, stopping the frame and making the most significant moment again appear before us with his personal comments , starts somewhere in the middle . And the hero first appears on the screen with cosmetic mask on her face . Then we learn that Julia wanted to look younger to Vinchentsina allegedly stopped loving him , again drew attention to her husband. But she does not even notice any change in it . According to the authors of the film ironically , Giulio certainly wants to seem quite different , but in actual fact , always remains the same. And all their sympathies , rather on the side Vinchentsiny which becomes truly free woman, able to achieve more when it is not bound by any ties to the "modern" men and not get rid of his eternal complexes. And this "Roma " was an accurate description of tragicomic Italian mores mid 70s and one of the notable works in the long film career Mario Monicelli .
Screenshots:
Download: