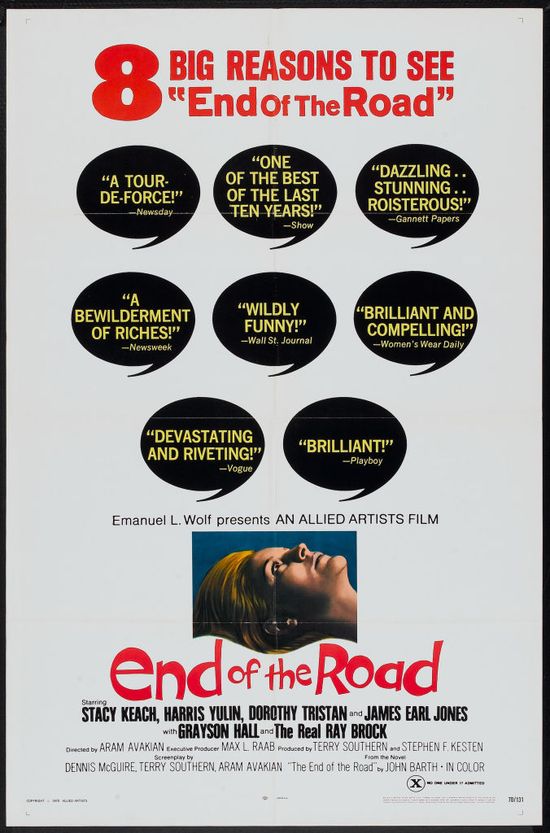 Year: 1970
Duration: 01:50:06
Directed by: Aram Avakian

Actors: Stacy Keach, Harris Yulin, Dorothy Tristan

Language: English
Country: USA
Also known as: Der Weg in den Abgrund
Description: Remember drug-crazed America in the late '60s/early '70s?  Well, the makers of this film (not to mention author John Barth, whose novel this is based on) had to be on something.  I'll never look at a chicken the same way again (you'll know what I mean once you see this movie).
Stacy Keach plays an unstable college instructor so scared of his own capacity for violence that he ends of in the care of bizzare, unorthodox, Doctor D (James Earl Jones).  What follows may just put you in a mental institution yourself.  With an emphasis on visual techniques, symbolism and social commentary, this is a mentally disturbed study of one troubled individual whose problems are a reflection of what ails society as a whole.
Review: After an accident on the railway platform, Jacob Horner falls into the "Farm" Dr. Dee, a very unusual psychiatric hospital. Successfully passing a course of treatment, Jacob takes a job as a lecturer and strikes up a romance with Rennie, the wife of his colleague.
Screenshots:
Download: