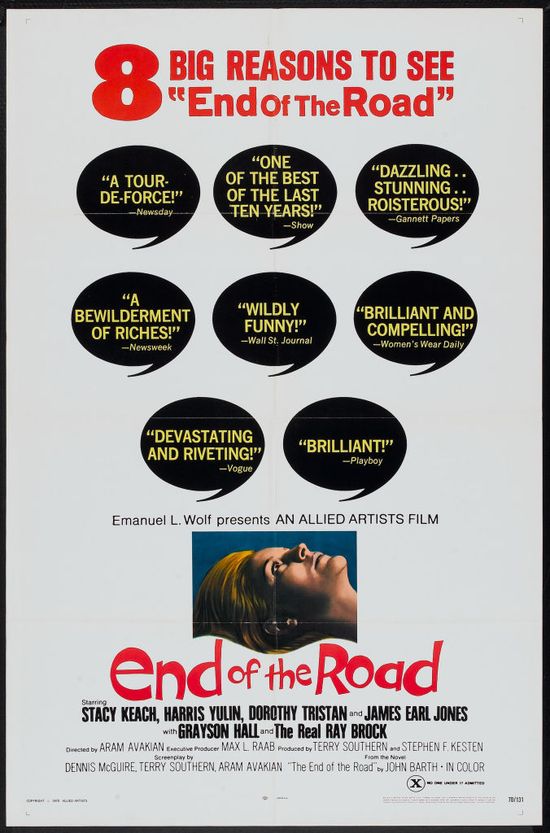 Year: 1970
Duration: 1:50:12
Directed by: Aram Avakian
Actors: Stacy Keach, Harris Yulin, Dorothy Tristan
Language: English
Country: USA
Also known as: Der Weg in den Abgrund
Description:
1.46GB XVID OF ARAM AVAKIAN'S 1970 FILM END OF THE ROAD STARRING STACY KEACH, HARRIS YULIN, JAMES EARL JONES, DOROTHY TRISTAN, GRAYSON HALL, RAY BROCK, JOHN PLESHETTE, JAMES COCO, AND M. EMMET WALSH AND WRITTEN BY TERRY SOUTHERN LOOSELY TRANSLATED FROM JOHN BARTH'S NOVEL.
A FILM THAT DEFIES CLASSIFICATION. A PLOT SUMMARY OF THIS, AND OTHER FILMS OF THAT ERA LIKE THE REVOLUTIONARY, FUNCTION ON A LEVEL OF MOOD AND IMPLICATION. THEY DON'T DEPEND ON PLOTS. WHAT'S HAPPENING AT THE SUBTERRANEAN LEVELS OF END OF THE ROAD MAY BE SOMETHING THE VIEWER WILL HAVE TO DISCOVER FOR HIM/HERSELF. THE STRENGTH AND THE HORROR OF THE FILM, FOR MANY, SEEMS TO COME FROM MERGING MADNESS WITH THE NORMAL WORLD, YET THERE ARE MANY SCENES OF QUIET HUMOUR AND AFFECTION.
THE PERFORMANCES ARE AMAZING. HARRIS YULIN AND DOROTHY TRISTAN, AS THE MORGANS, WERE EITHER CAST EXTREMELY WELL OR WERE ACTUALLY A FACULTY COUPLE AT SOME QUIET BACKWOODS COLLEGE THROUGH THE LOOKING GLASS. KEACH IS MIND-BLOWING AND WITHOUT HIS PERFORMANCE, NOTHING IN THE MOVIE WOULD HAVE WORKED. JAMES EARL JONES IS FANTASTIC AS DR. D AND MAKES HIM INTO A MONSTER WITHOUT A SHRED OF SOFTNESS.
END OF THE ROAD ISN'T INDESCRIBABLE, BUT IT'S NEARLY IMPOSSIBLE TO NAIL DOWN ITS WILDLY SHIFTING TONES. THE FILM'S FIRST HALF IS REMINISCENT OF THE CABINET OF DR. CALIGARI IN THAT WE KEEP EXPECTING THE AUTHORITIES TO SHOW UP AND CARRY DR. D AWAY IN A STRAITJACKET. ADHERENTS TO BARTH'S NOVEL AREN'T HAPPY ABOUT THIS SECTION OF THE FILM, WHICH IS PACKED WITH ACIDIC TERRY SOUTHERN ABSURDIST TOUCHES SUGGESTING UTTER CHAOS AND DEPRAVITY.
THE CAMERA STYLING OF GORDON WILLIS, HIS FIRST FEATURE, WITH HIS USE OF A LOT OF TOP LIGHT, JUST AS HE DID IN THE GODFATHER MOVIES IS A STILL-VALID STYLE WHICH LOOKED PRACTICALLY REVOLUTIONARY BACK IN THE DAY. THAT COUPLED WITH AVAKIAN'S DISTINCT DIRECTION FROM WHAT WAS STANDARD AT THE TIME, GIVES END OF THE ROAD A TIMELESS LOOK.
RIPPED FROM THE WARNER REMASTERED DVD, I'VE ALSO INCLUDED AN EXTREMELY WELCOME EXTRA ITEM. A DOCUMENTARY CALLED "AN AMAZING TIME: A CONVERSATION ABOUT END OF THE ROAD" (33 MINUTES) DIRECTED BY STEVEN SODERBERGH AND FEATURING STACY KEACH, HARRIS YULIN, JAMES EARL JONES, ONE THE PRODUCERS AND OTHERS WHO WORKED ON THE FILM.
NOW THAT THE WAC MOD PROGRAM IS GOING STRONG, THE COMPANY RELEASES VERY FEW VINTAGE FILMS ON STANDARD DVD. THAT MAKES END OF THE ROAD A REAL EXCEPTION, AS WITH THEIR RELEASE OF THE EXTENDED CUT OF HAL ASHBY'S LOOKIN' TO GET OUT FROM 1999. SOMEBODY AT WARNER HOME VIDEO STILL HAS THE ABILITY TO ADVANCE SPECIAL PROJECTS LIKE THIS, ONCE IN A BLUE MOON.
Screenshots
Download