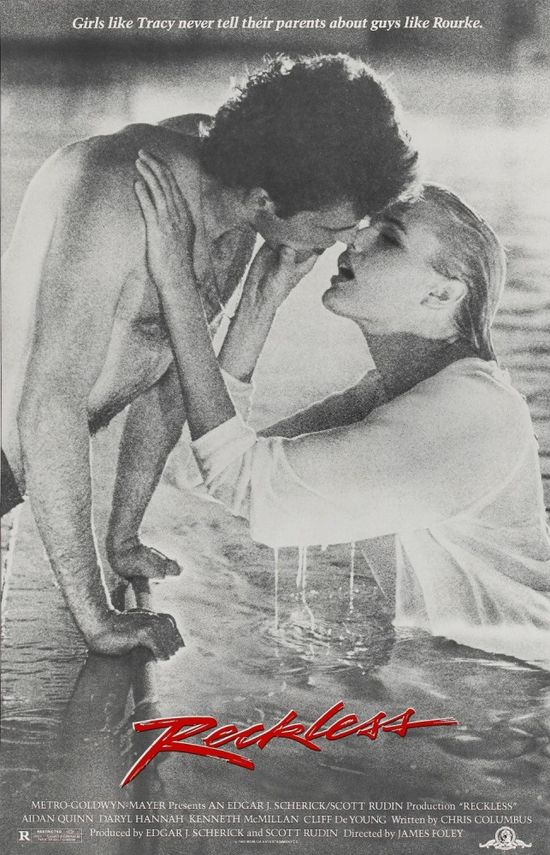 Year: 1984
Duration: 1 Hour 33 Min
Directed by: James Foley 
Actors:  Aidan Quinn, Daryl Hannah, Kenneth McMillan, Cliff De Young, Lois Smith, Adam Baldwin
Language: English
Country: USA
Also known as: Jovens sem Rumo, Vild og rodløs, Rebeldes temerarios, Kovis, Mindenütt jó, de legjobb máshol, Vakmerö, Amare con rabbia, Na oslep, Jovens sem Rumo, Rebellen, Jung und rücksichtslos, Reckless – Jung und Rücksichtslos

Description:

Teen outcast johnny Rourke falls in love with the head cheerleader of the school football team Tracy Prescott. By fate after a random draw, they become a real couple on a dance party at their school.
They belong to two different worlds, but as you know opposites attract young people fall in love. Antisocial Rourke is faced with a privileged secular Prescott.
But one day, all hopes are shattered. Prospects Rourke on the background of the industrial city quite dull. Rourke comes into the fight with the alienation of his mother, besides suddenly his father died.
Meanwhile, soon, Tracy will have to make a difficult choice between its stable longtime boyfriend Randy Daniels and johnny.
Screenshots
Download