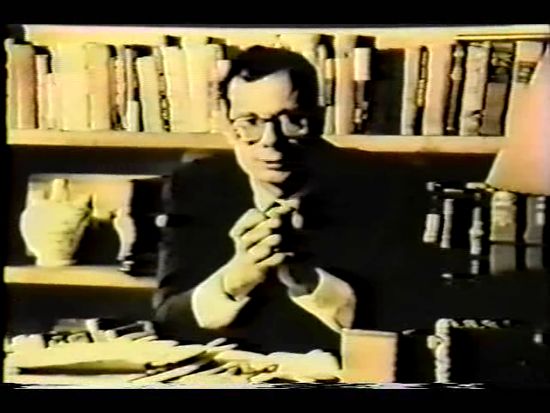 Year: 1990
Duration: 1:27:40
Directed by:  Jeff Mentges
Actors: Breon, Dick Bangham, Joe Lee 
Language: English
Country: USA
Also known as: Cialo i krew
Description:
The one thing they all had in common was Joe's Record Paradise, an eclectic music shop in Silver Spring. Surely none of them thought, while flipping through the rare jazz LP bin, that in a few short months they'd be movie stars.
Then along came Jeff Mentges.
University of Maryland film student Mentges wanted to make a feature film based on the legendary pornography actor John C. Holmes — known in the industry as "Johnny Wadd." So Mentges raised $15,000, "by selling basically everything I own," and went to work.
The outcome is "Of Flesh and Blood," a 90-minute film noir that traces the sordid life of Johnny Wade, a scrawny, balding guy with a harsh Baltimore accent (played by Breon, a local elementary school janitor) who becomes a big-time porn actor with an enormous appetite for cocaine. In between his film roles, Wade runs drugs for a group of nasty dealers who like to throw people against walls. Wade also spends a fair amount of time at the posh home of his personal supplier, drug lord Eddie Nush, popping 'ludes and smoking coke.
Wade's addiction eventually ruins his ability to "act" and he gets thrown off the set. Both his wife and his 15-year-old girlfriend split. He owes thousands to Nush. He starts bungling deliveries for the gang. The vice squad is hassling him.
Because the budget was so small, Mentges went to Joe's — his former place of employment — to find "actors" willing to work for free.
"Everyone in the film is somehow connected with that store," says Mentges. "One of the guys is a real heavy drinker at the bar next door, and he looked sleazy enough to play one of the criminals. Some were regular customers and some just hang out there or work there."
As a result, the acting is pretty dreadful. The sets are pretty cheesy too. The jungle scene looks like it's in somebody's back yard. The "beach" is nothing more than limp waves on the bay shoreline. If they needed to shoot in an apartment, they'd mooch off friends.
It's okay, though, because the story is equally pathetic.
"I like that real, real black comedy," says Mentges. "I love that cynical tongue-in-cheek — pushing it to the limit to see what people will laugh at."
Screenshots
Download