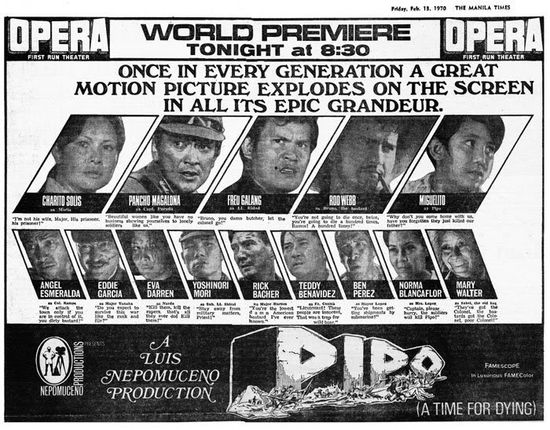 Year: 1970
Duration: 01:50:06
Directed by: Luis Nepomuceno
Actors: Charito Solis, Pancho Magalona, Fred Galang
Language: English (Greek Subs)
Country: USA, Philippines
Also known as: Pipo, Ora thanatou
Description: The time period is the second World War, the focus is on the Japanese. A small village is trapped by a rogue faction headed by Bruno. This place is soon to get the spotlight after an American pilot who crashes there, looks to report this groups actions and help free them.
A OK war/sleaze/drama flick from the Philippians directed by Luis Nepomuceno and written by Cirio H. Santiago.  Found this wasn't as good as some reviewers and sellers made it out to be, but does have some good sleazy moments and a good amount of squib violence.
Plot:   People in a small village are stuck  between a rock and a hard place, with Japanese soldiers occupying their town, and the only way to get rid of them is through the local revolutionaries, lead by a sadistic, raping ex-american slob, who proudly says that his mom was "a WHORE who'd lay ANYBODY for a BUCK!".
Review: If Sam Peckinpah directed an epic war drama in the Philippines, it might run something like this. A small Philippine island is rather peacefully invaded by the Japanese during WWII. A guerrilla resistance led by a white bastard forms and spends most of the time raping, killing and raping and killing some more! To make matters worse a hard-assed Japanese commander takes over and starts executing the townspeople. Lots of dramatic moments, but the battle scenes are bloody as hell and since it was directed by Cirio H. Santiago [incorrect], there has to be at least a shooting, rape, beating or blood-drenched slow-motion massacre every 10 minutes to keep the audience on their toes. In English with Greek subtitles.
Screenshots:
Download: