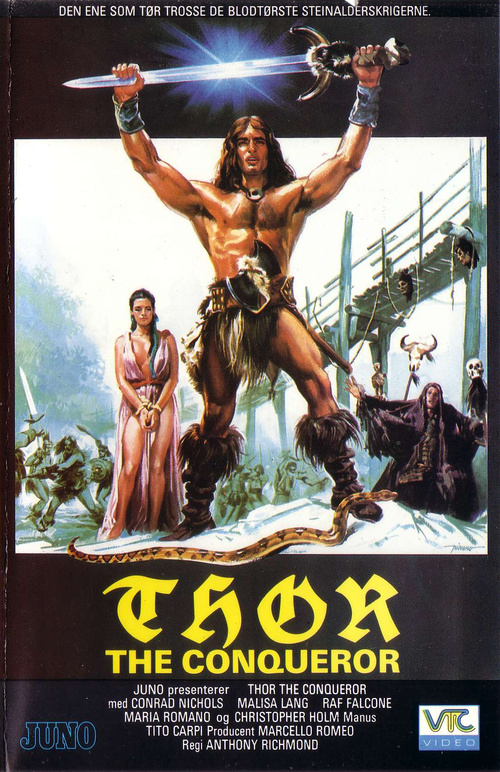 Year: 1983
Duration: 01:24:14
Directed by: Tonino Ricci
Actors: Bruno Minniti, Maria Romano, Malisa Longo
Language: English Dub

Country: Italy

Also known as: Thor il conquistatore, Thor – Der unbesiegbare Barbar, Thor le guerrier, Beastmaster II
Description: Tonino Ricci regular Luigi Mezzanotte (Rush, Days of Hell) stars in this no-budget barbarian flick featuring more floating demon heads, unbelievable dialog, cannibals, endless sword battles and miles of misogyny. Ricci is without a doubt the great unsung master of Italian trash cinema.
A beautiful legend of the greatest of the leaders, the favorite of the gods to the Torah, went in search of the Golden Seed to restore the fertility of the land and rid the people from hunger
Review: Minutes after Thor's birth, he is shot with an arrow and escapes with a creepy magician. The magician regularly turns into an owl, prattles on endlessly as narrator, and likes to leer at Thor while he has sex (How about a little privacy there, Merlin!). Thor grows up to be a murderous rapist–so naturally, he's the good guy. During Thor's first sexual experience (with a captured woman), the magician scolds him: "Don't be so gentle with her–women must obey. It is proven!" Thor goes on to kill some cannibals, then some women with baskets on their heads (?). He captures the last basket-headed woman and forces himself on her as she screams "NOooooo!!" Talk about your anti-heroes. Afterward, he informs her: "In the world of a man you shall live! Thor! You remember that!" The sweet talk did the trick, as she actually saves Thor's felonious ass in the very next scene. Amazing. Even more amazing is the completely arbitrary scene in which Thor awakens in a cave surrounded by transparent floating demon heads and plastic skeletons. What the fuck? Shades of RAIDERS OF THE MAGIC IVORY.
Anyway, Thor fights and fights and fights, knocks up 2 women, gets his eyes burnt out and invents agriculture. I was never too clear on what the hell the point was, but who cares. It's ridiculous, hilarious, terrible, trashy trash of the first order. Highly recommended!
Review #2: Overall, the picture is quite laconic, which is likely, you can add a plus history. I always thought that in such films should be less dialogue and more action. Here all is well with the only exception that the action, although it dominates, but is not particularly impressed by the weak visuals. However, you can watch. The benefit of a positive effect on perception, provides musical accompaniment. What's that, and the soundtrack is high. Music, sounding almost constantly throughout the film successfully emphasizes plot details reinforce the atmosphere of a scene. At least in this respect, the creators found, than to please the audience.
This story of courage, strength and bravery. Even in our time, these factors play an important role in life. But to a greater extent, this picture is about love, loyalty, generosity and kindness. True, the latter is almost here it is not, there is a mention in the final words of the narrator, giving a kind of farewell for future generations.
"Thor was the leader of his era. But, they were not peaceful times. Since then, the one who wanted to try the fruit of gold seeds was only plow the land. But nobody has been able to grow a seed of peace … "
Screenshots:
Download: