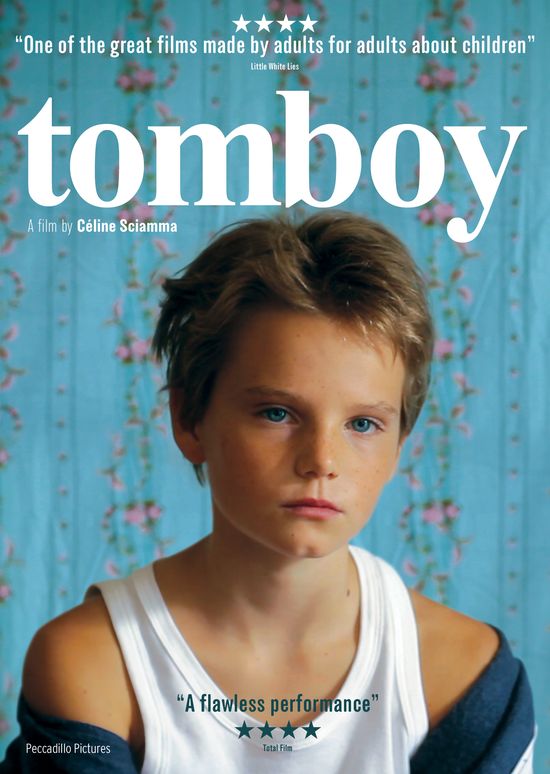 Year: 2011
Duration: 01:18:32
Directed by: Céline Sciamma
Actors: Zoé Héran, Malonn Lévana, Jeanne Disson and Sophie Cattani
Language: French (Dutch subs)
Country: France
Also known as: Agorokoritso, Pobalinka
Description: Laura is ten years old. With her parents and younger sister Joan, they have recently moved to a new place. Outside, summer, the neighborhood kids all day playing in the yard, but Laura so far no one knows. She meets Lisa, a girl of the same age, and pretends to her that she is a boy. So, Laura becomes Michael and finds friends from other children. Gradually, they come closer to Lisa, why Laura position-Michael becomes more and more ambivalent.
Review: Ten young Laura – the girl is very strange. Zapletaniyu dolls hair in pigtails and arranging tea parties (or at least girly gatherings), she prefers to play with the boys in soccer and other net patsanskie classes. Laura, in addition, laconic, very (I would even say too much) rarely smiles, and everything else is completely girlish look. It is much more comfortable in shorts and a t-shirt broader than in a dress or skirt, which invariably turns it into a sort of cute boy with a fully boyish character.
Laura lives in a complete family: a loving mother and father, and my younger sister – Jeanne. And no one – absolutely – do not know what the Laura when she goes out to his new friends. Outside the house a little girl turns to Michael – a serious and grim, but such a charming tomboy. Later, Laura meets a neighbor, Lisa, and their friendship threatens to turn into something more than just a backyard buddies.
I Do not know exactly what the aims of the film, and after seeing this deal will have for a long time. Rather, at first glance, it seems that this is just one of the few stories that can happen in life (because every can come from such an embarrassment appearance), but the story with its own sense of how to go deeper. And this film is not about debauchery, as many may think, but rather about becoming a little man, psyche and preferences which are very flexible and variable.
Even the mother here does not look as sharp ratio of adults to like, but only a proposed answer to the question – what will happen? In fact, it was isolated, but only the central focus still is Laura. Still silent and self-contained, but completely accept myself for who she is, she would not make this tragedy, bravely borne the shame of the whole. Her tenacity and toughness in itself will render faithful service afterwards, so it remains unwavering confidence that she would be able to withstand all the insults and taunts of their peers, if any. It's worth remembering, though, the episode with the fight between Michael and one of the boys on the same points and the match children on a raft, which won Laura. Offense to the girl clearly does not give himself.
Screenshots:
Download: