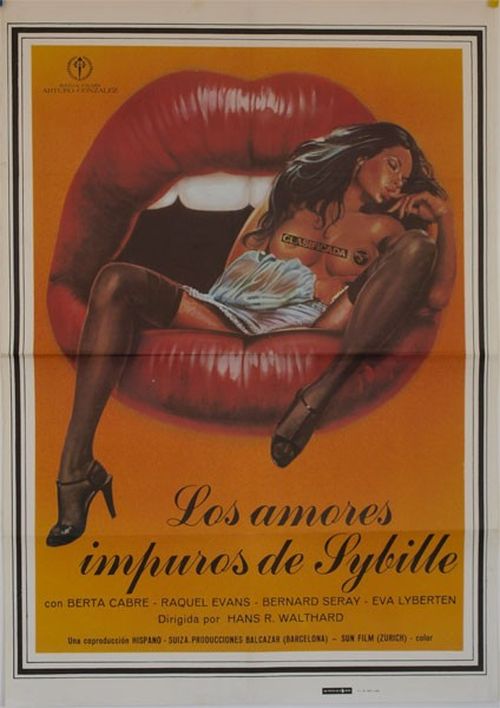 Year: 1981
Duration: 01:15:33
Directed by: Gerard Loubeau & Hans R. Walthard 
Actors: Berta Cabre, Raquel Evans, Bernard Seray 
Language: French
Country: France
Also known as: Jarretelles roses sur bas noir; Französische Küsse; Los amores impuros de Sybille; Französische Küsse
Description:
Les Amores Impuros de Sybille (Impure Loves of Sybille) a.k.a. « Jarretelles Roses sur Bas Noirs » (Rose suspenders over black stockings) is a French/Spanish/Swiss softcore coproduction. The imdb lists the original language as French but since a lot of the actors (and especially actresses) were Spanish, they probably said their dialogue in their own language, so this Spanish version can be considered original too. And it's the only one available for now anyway.
Another point to consider is the presence of such hardcore veterans as Alban Cerey, which, along with the rather short running time, suggests a possible hardcore version, but this one is strictly softcore.
The story ? Oh, yeah, you want a story, right ? Well, there's one : think « Last house on the left », only with a lot more sex and a lot less violence (and no gore). More or less.
The TVRip is quite small but plays perfectly in VLC. Thanks to the original uploader.
In Spanish with no subs, but the action is easy to follow.
Screenshots
Download