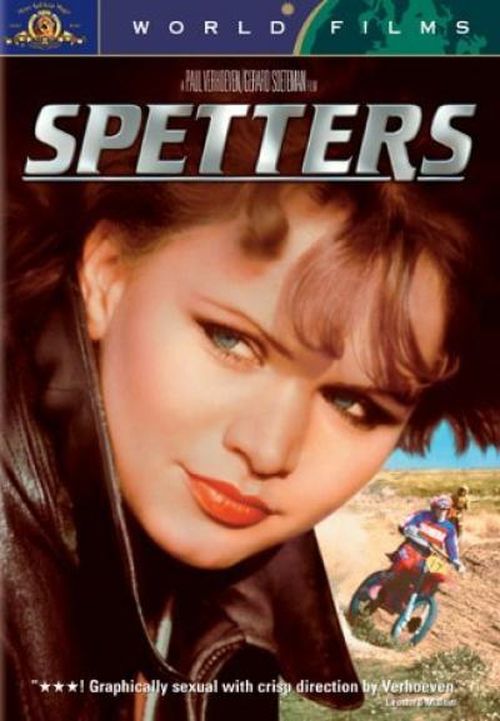 Year: 1980
Duration: 1:57:12
Directed by: Paul Verhoeven
Actors: Hans van Tongeren, Renée Soutendijk, Toon Agterberg
Language: Dutch (English Subs)
Country: Netherlands
Also known as: Viver Sem Amanhã, Descontrol, Machos, Seks na motorju
Description: The dramatic story of a young company of teenagers from a small Dutch town, who drive a motorcycle. Each of them chooses his own way. This way is not like the one they saw in the sweet dreams of the future.
Review: This dynamic film Spetters, a rapid, fast and crisp, vivid and so interesting, but in reality is a tragedy, a drama with a rather sad ending. No, of course, there are hints of a happy ending, there are links directed at calming enacted imagination and strained nerves audience, but nonetheless. At the heart of the story line of this painting is put quite a serious topic, a topic that is exciting and today – is that of the youth, who because of his self-confidence, independence and freedom, supposedly from obsessive to a senior to its own – the guys are walking, rowdy, make rash actions. But all would not be so bad if you do not risk factors that are young and prone to …
In the movie Spetters Paul Verhoeven and reveals just thought, talking about these young people who are strong, beautiful, young, and … totally unreasonable in their thoughts, desires, behavior and actions. What a shame, but if it was all a fabrication. And Paul beats the nail right on the head, as time recounting of the terrible realities. Although the plot and fictional, though the characters – the same creators of a fantasy film, all this does not become easier. Consciousness of how many young people have died because of their liberty, stupidity and lack of restraint leads to real horror. But just dangerous and are similar kinds of activities – bike racing at insane speeds, jumps and various activities in extreme sports. All right – dealing with the risky life activities, to be able to keep icy calm, reason and remember the security measures. But here is trying to become the "best", attempts to break a world record or just to stand out from the crowd often led to a very, very sad outcome …
At these thoughts suggests that serious and frankly – candid film that reveals the plain truth about the life of young people. Thank God, not all involved in such an epidemic in active sports, otherwise we could talk about the high mortality rate among the young. Yeah, pretty scary to realize, but it's all true. The brutal, naked, brutal and panic terrible truth, and shows us that Paul Verhoeven, and only by combining with the ace movie like Rutger Hauer (Turks Fruit and Keetje Tippel) – and even more so, and reaches the heart, the mind and the viewer.
Screenshots:
Download: