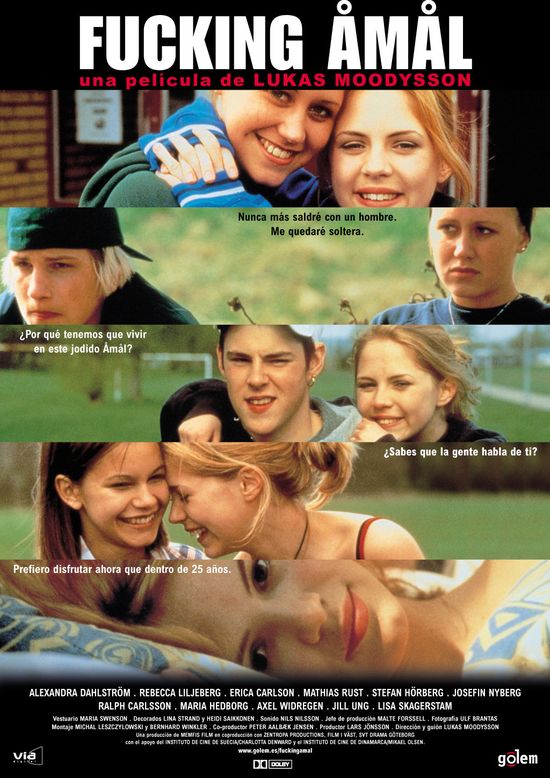 Year: 1998
Duration: 01:25:33
Directed by: Lukas Moodysson
Actors: Alexandra Dahlström, Rebecka Liljeberg, Erica Carlson, Mathias Rust, Stefan Hörberg
Language: Swedish (English subs)
Country: Denmark
Also known as:  Fucking Åmål, Amigas de Colégio, Shô mii rabu, Fucking Amal, Fucking Åmål – Il coraggio di amare
Description: «Fucking» Amal is a small town in Sweden, where our heroes live. Beautiful Elin – the most popular girl in school. There are rumors that she had slept with all the guys. Two people love elin most of all: a cute, shy boy, Johan and clever, but "strange" girl, Agnes, which  has no friends in the school. But their Elin does not know what she wants, except, perhaps, one – to escape from a provincial Amal to the place where is a real and colorful life …
Review: A small town in which fashion on rave comes only at the moment when the whole normal world forgot about it. Here live normal school children, teenagers, adults who play and try to answer a simple question like who they are and why people meet each other …
The girl Agnes seems to be a bit out of this world, she is not often involved in parties, drinking, not eating meat and is even rumored to be a lesbian. Last, to some extent true, judging by Agnes diary she was in love the first beauty school Elin, though some experience of love of the girl is not in general the idea is not expected.
Ellen is insanely bored, so she is torn between a man and a woman, to finally make some obvious homosexual choice … Theme of lesbian relationships among adolescents has become extremely popular right after the movie "Show Me Love".
A film about the life of teenagers, everyone can find something in it. With this film you see that young people in all countries are similar, that they live and feel about the same. Very good movie, rightly shows the difference between people.
Screenshots:
Download: