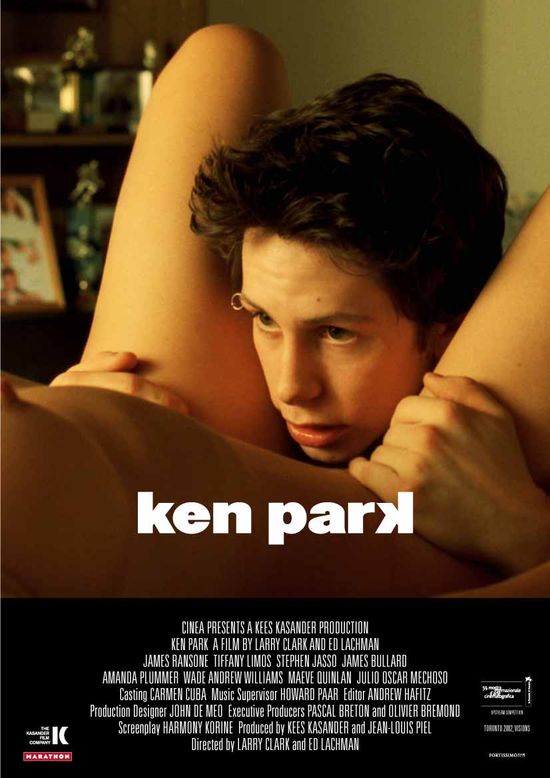 Year: 2002

Duration: 01:32:21
Directed by: Larry Clark, Edward Lachman
Actors: Adam Chubbuck, James Bullard and Seth Gray
Language: English
Country: USA
Also known as: Ken Park – Quem és Tu?, 
Description: The first film by Larry Clark "Kids" told about the secret world of children, where there is no entry to parents. In "Ken Park" we enter into the houses of four families and meet with parents.
"Ken Park" – a story of adolescents and their parents in Visalia, California: town, lost between Los Angeles and Fresno. The film tells the story of childhood friends – three boys and one girl – and their parents. All masks removed – you will get a cocktail of violence, sex, hatred, love and shocking scenes.
Review: The film is difficult to classify objectively. On the one hand it shows the lifes of American teenagers, in which there is nothing interesting. On the other hand, it seems to be that pornographic moments is a little gem of this movie. It's just scenes from the life of a degrading society.
Indeed, there is no clear story line. However, in the end of credits you understand that it never had been here. Ken Park is not a hero, but the image. Metaphor. This is a film in which no matter what, it's more important – how. By what I saw – the director arranged a theater rather than cinema. The purpose was to explore the characters, conflicts between "Fathers and Sons". The end of the film is incredibly poetic. I couldn't forget Ken Park's significant silence for a long time.
Shoking scenes and histories are shown very natural, the acting game of boys and girls is really awesome. The film is good, but I don't think that you need to search for a philosophical subtext in it.
Screenshots:
Download: