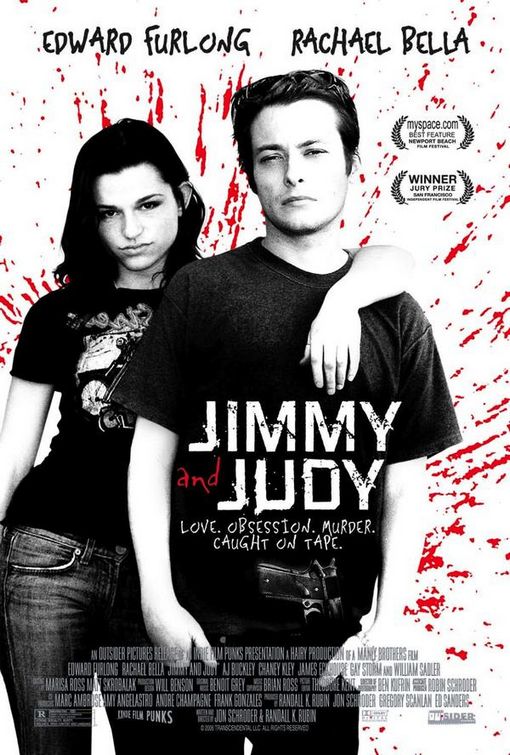 Year: 2006

Duration: 01:35:46
Directed by:  Randall Rubin, Jon Schroder
Actors: Edward Furlong, Rachael Bella and William Sadler
Language: English
Country: USA
Also known as: Jimmy y Judy, Jimmy & Judy
Description: Welcome to the American suburb, a place where the image of "perfect family" so meticulously cultivated that friends, neighbors, even relatives closest to the family, have no idea what really lies beneath the surface. For Jimmy, who was expelled from college, exposing the truth is something slight,  that he does only occasionally.
He is obsessed with his hand video camera, which he uses to tape anything or everything in his life, playing God with the lens. He manipulates his parents, their friends, even his doctor, entirely for his own amusement. There are even rumors that Jimmy was expelled from college because he tried to convince his friend to commit suicide on camera.
Everything takes a different turn when Jimmy refocuses his attention on Judy, a shy girl, which is constantly bullied at college. Hoping to get her attention, Jimmy avenges her enemies in college, taping their actions. When Judy sees it, she immediately falls in love with her new protector.
Investigating sex, drugs, shooting and even small theft, the two of them, desperately in love with each other, make videotapes of everything they do, but their actions inevitably lead to disaster. After a random accident on the road and a desperate encounter with the police, Jimmy and Judy run from the law and forced to seek help of the dregs of society just to survive …
Screenshots:
Download: