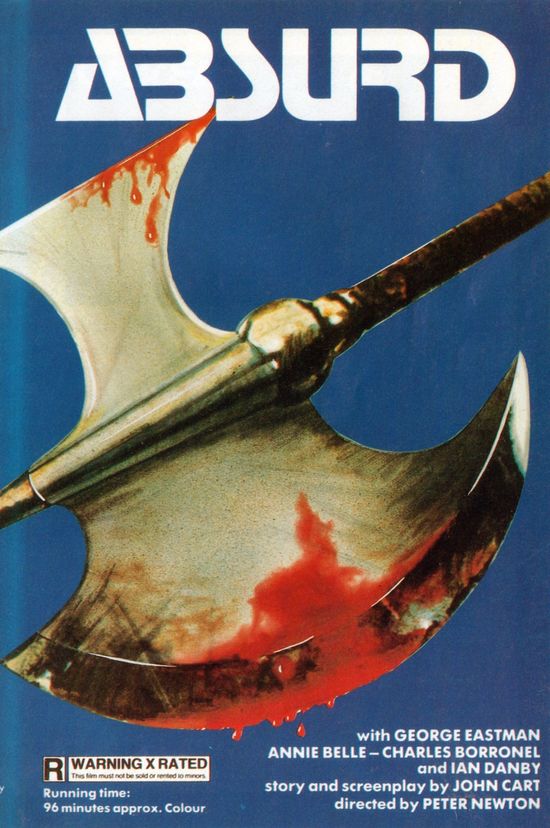 Year: 1981
Duration: 01:33:56
Directed by: Joe D'Amato
Actors: George Eastman, Annie Belle and Charles Borromel
Language: English
Country: Italy
Also known as: Rosso sangue, Absurd, Horrible, Monster Hunter, Absurdo Mexico, Anthropophagous 2, Antropophagus 2, Ausgeburt der Hölle, Maldición satánica, Psychose infernale, Terror sin límite, The Grim Reaper 2, Z piekla rodem, Zombie 6: Monster Hunter
Description: Eastman returns as affected by radiation mutant-killer, whose wounds have the ability to heal at an incredible rate. Having escaped from the hospital, he sneaks into the house where the paralyzed girl, her little brother and their nanny.
Review: The film "Rosso Sangue", published by the world as "Absurd", soon acquired a name of "Anthropophagous 2", although not related to their story with the movie "cannibalism", although they have the same director and the same actor plays the main villain. He also, incidentally, is a screenwriter and paintings, as well as most of the films screenwriter D'Amato, in which he and plays. For these reasons, as well as to the similarity of the genre, the film distributors dubbed the sequel to "cannibalism", but if the "cannibalism" is more a film about an ogre, then here we have a pure slasher.
Even on the part of the Italian slasher ridicule Western, in particular 1 and 2 of the "Halloween" with the game in the same vein, at the same time demonstrating the differences slasher from Jalla. Maniac performed by the Eastman people here do not eat, but that does not stop him pretty brutally kill all the counter on your way. Particularly good left the scene with an oven, where due to the length and the music begins to involuntarily tense experience for the victim, feeling the horror of her suffering.
The actors have to say, regardless of the rather absurd plot with derision-American slasher cliches, play a very perky, strongly resist maniac believable scream, bad talk, and behave in a generally realistic. Katya Berger particularly good, though it is not in the movie, and as much as we would like. Just cope with the image of a maniac, and George Eastman (Porno Holocaust).
Screenshots:
Download: