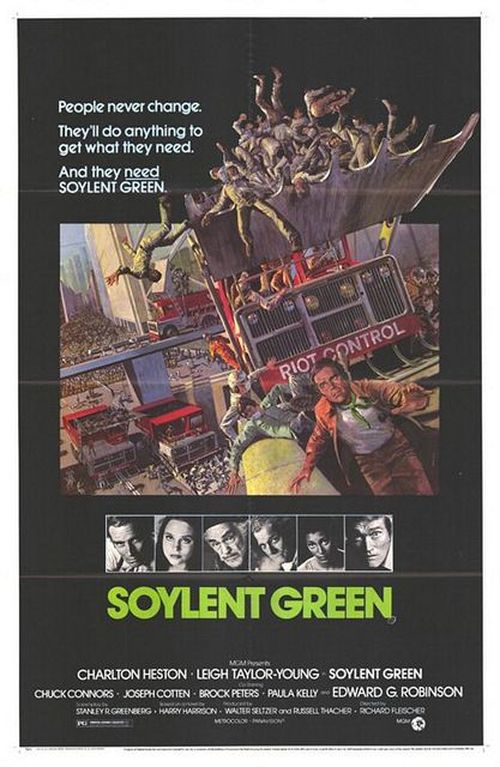 Year: 1973
Duration: 01:36:20
Directed by: Richard Fleischer
Actors: Charlton Heston, Leigh Taylor-Young, Chuck Connors and Joseph Cotten
Language: English
Country: USA
Also known as: 2022: i sopravvissuti, Jahr 2022… die überleben wollen, Soirento geriin, Soleil vert
Description: 2022. Earth is overpopulated, in one New York live more than 40 million people. Pollution of the environment has led to the greenhouse effect, resulting in the vanishing of water, animals and vegetation. In order to somehow feed the people, the corporation "Soylent" produces a protein supplement in the form of multi-colored bricks. Unexpected murder  of a member of the corporation leads police detective Thorn to the factory where he discovers a terrible secret of "Soylent Green" …
Review: The film "Soylent Green" ("soylent green") – filming a science fiction novel Harry Harrison "Move over! Move over!." In fact it is pronounced dystopia – due to the greenhouse effect life on Earth to extinction, humanity is technologically and morally degraded, is in a state of profound crisis in its history, and although the city crowded, tragic end is not far off, but people are not aware of this, as other life simply do not know. picture came in 1973, and its action is from the time of the film a little less than half a century. So much that these days … And when you see her frosty February night, under the weather forecasters assured that such cold Europe did not know for many years, they have a record, you think: is it possible that what is shown in the film became a reality. If "yes", how much time is necessary to mankind, to forget what a normal life and get used to poluskotskomu existence. And the answer suggests itself, alas, not happily. course, is hardly the reality of the future may be as Retrospective – a lot, including clothing, resembles the late 19th – early 20th century (especially touches factory caps heroes), but it is clear that the total destruction of the biosphere to roll back to the primitive technology is inevitable.
The picture gives a sad reality: overpopulated metropolis where most people – the homeless, with their bodies tightly packed even staircases houses. To survive, people use food stamps for issuing drinking water and nutrient-soylenty briquettes. Social institutions are still there, but not in the usual way. The church has become a huge bunkhouse for the homeless. Comfort to those who suffer are the house – it is certain establishments for euthanasia and disposal of bodies have decided to voluntarily depart this life. Police do not wear uniforms, but they have guns and they keep order, while shamelessly robbing others. These many sins and the film's hero cop Robert Thorn (Charlton Heston), ready to steal all that is bad. Incidentally, he is a good guy, just to survive in this world who more agile. Thorne investigates the murder of a member of the Board of powerful corporation that produces soylens, and eventually finds out the awful truth. Far more terrible than the one to which he was accustomed to in their everyday life.
Shot in the early 70's, the picture looks good in our days, in general, remarkably, for a fantasy genre usually become obsolete long before any other genre. Good direction, acting and detailed realistic images created by the imagination of the world Harry Harrison led to the fact that "Soylent Green" has received the award "Saturn" and "Nebula, and won the Film Festival in Avoriaz.
Review #2: I liked this film, above all, it shows the sad consequences of reckless pollution of the planet and human selfishness. It would seem that many of these films, but in this case it seems very plausible.
If in order, the story very much. I have not read the works on which filmed Soylent but firmly shake your hand writers, they are just great.
Actors are not very professional. Often look through various bloopers. As for the direction, it is all pretty good.
Overall soylent green – the film is worth watching. And despite all the disadvantages:
Screenshots:
Download: