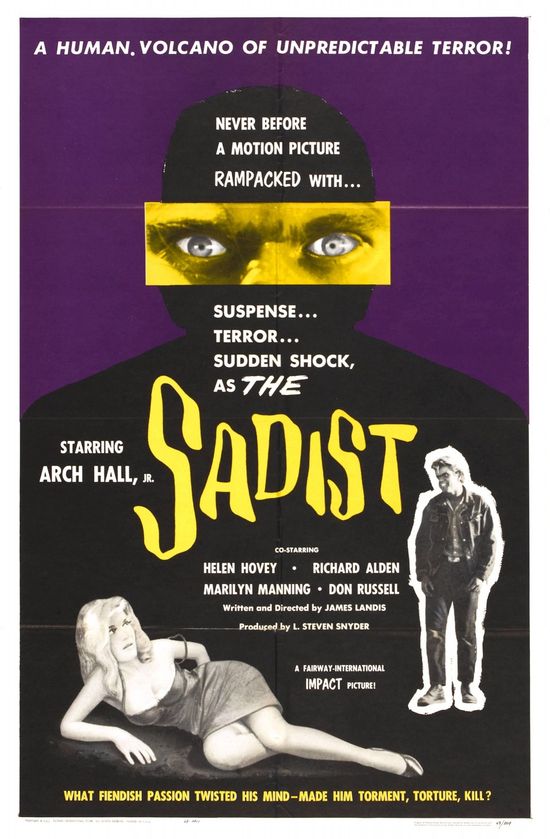 Year: 1963
Duration: 01:31:32
Directed by: James Landis
Actors: Arch Hall Jr., Helen Hovey, Richard Alden
Language: English
Country: USA
Also known as: The Sadist,Der Mittagsmörder,Tara Diabólica,Sadisti,Le sadique,O sadistis,A szadistaA bruciapelo!,Profile of Terror,Sweet Baby Charlie,Der Mittagsmörder,Todesangst
Description: As hard as it is to believe, this is an Arch Hall Jr flick that is actually pretty good. Some people would call it great. It certainly is a departure from the insipid teenage heartthrob MST3K fodder he usually starred in. This is a tough, brutal, low budget B picture that is a total 180 from his other films. Hall plays a character who I would describe as  sort of less intelligent but much more  violent version of Martin Sheen's character  from Terence Malik's "Badlands." I like it. I particularly enjoyed the last act.
Review: A young man obsessed with James Dean and his " rebellion without a cause " , but that's the hero turns out – violence for no reason.
The film Sadist was very hard and sharp . We see a very explicit scenes of abuse and murder. No, the viewer will not throw out the insides – at a time in American cinema still respected audience. But the study of psychological stress will be placed on the highest level .
Not necessarily show violence against women , so we can show freak to touch a woman's hand that nature experiences will be clear . That would be important not to shock the viewer and show him "Evil" .
I also liked the denouement – an unexpected and , oddly enough , very religious , in nature.
Despite the small budget – will highlight this movie. After all , it was after he went to "A Clockwork Orange ", " The Hills Have Eyes ," " Wild Dogs" Bava " Funny Games ," Haneke .
In truth, I did not come to a definite conclusion – Arch Hall played well as a sadist , or vice versa. However , its role has not gone unnoticed for the cinema – the hero of Brad Pitt in " California " and yellow bastard in " Sin City " – too much like a hero Archie . So, clearly the role it deserves attention .
Yes and directing James Landis – good. Traditionally , due to the fact that Landis did not become a famous filmmaker (unlike his namesake – John Landis ) – in this film only emit stunning cinematography Vilmos Zsigmond .
But for my taste – director and cameraman , as well as actors, worked all equally cool. All – well done .
High score a film – not associated with the worship of my people. Just in terms of technical and staging , the picture ahead of its time and it is therefore deserves careful study.
The result: a movie Sadist, certainly tough , but for my taste, it is ten times stronger than " Funny Games " by Michael Haneke . So , I recommend – at least in terms of the history of cinema . The film in fact – came out successful . How many years have passed , and he still in the charts.
Screenshots:
Download: