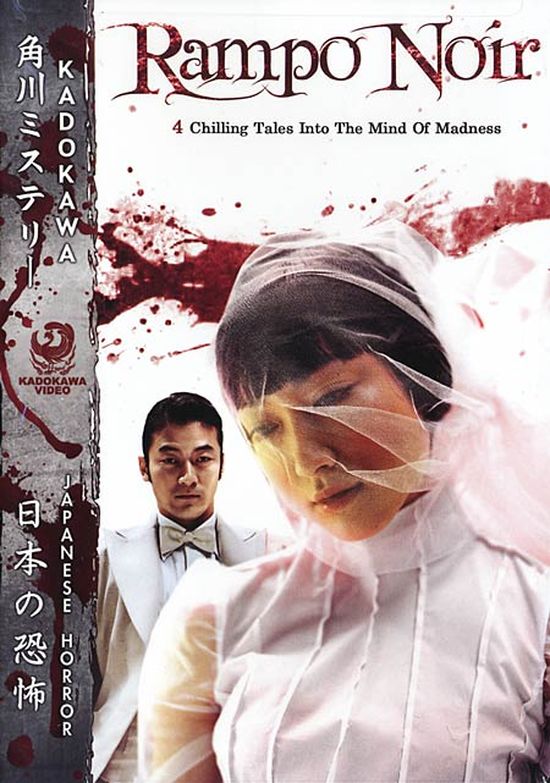 Year: 2005
Duration: 02:14:25
Directed by: Akio Jissoji, Atsushi Kaneko, Hisayasu Sato, Suguru Takeuchi
Actors: Tadanobu Asano, Yûko Daike, Chisako Hara
Language: Japanese (English Subtitles)
Country: Japan
Also known as: Ranpo jigoku
Description: Four artsy and grotesque movies based on Edogawa Rampo's macabre and bizarre mystery stories. First is a nightmarish but pointless short about a man on an alien landscape envisioning a violent fight between himself and a female as their genders merge. Second is the most conventional, telling a murder mystery involving lots of mirrors, dead women with melted faces, and a strange, obsessive mirror-maker with a love for S&M sex. The third by Hisayasu Sato is the most depraved, involving a war veteran with no arms or legs, who can't talk, is deformed, and who is tended to by his insane, dominatrix, sadistic wife who may or may not have done all this to him. He becomes her Caterpillar, a sex slave for her sadistic impulses, a work of art according to a strange insane art collector living with her who soon performs his own twisted fantasies on them both. The fourth is a surreal, confusing trip into the insane mind of an obsessive man with an extreme fear of germs and a nasty rash on his neck from scratching himself all the time. He is infatuated with a celebrity whom he works for as a chauffeur, but is driven insane by wanting to touch her and his repulsions. He soon finds a solution but things get complicated when she starts to rot…
Review: With creativity Edogawa Rampo I know first hand, but with adaptations of his works before the case was not. Actually, I'm a literary adaptations extremely skeptical and cautious, but this film can not be called a failure. That's what happens when a literary classic Japanese thriller to put a hand talented directors.
The film Rampo Noir consists of three different, unrelated digressions, each story flows smoothly from one to the other of which is not the impression that you look three individual film.
The entry "Channel Mars" only the first page of the almanac, the first circle of hell. Silent, sharp visuals, reminiscent of someone's nightmare, where intertwined anxiety, anger, violence, and despair. Passion and obsession men with long hair, which a few minutes later we see as a police detective in "Ada mirrors".
This detective story is more clear and does not require understanding, although philosophical thoughts willy – nilly make you think. The story of the beauty that generates violence, the beauty that kills.
"Caterpillar" tells the opposite of ugliness and despair, but even here there is a violent cruelty, as well as the passion of a woman to a horrible mutilated cripple.
The last story "Bugs" the most paranoid, creepy and slippery, what is happening on the screen from time to time even a sensation of nausea in the throat. And despite the fact that the story is about the mad love. Love, shall communicate to the murder …
Each episode is unique, visually brilliant and everyone leaves their special experience. In general, they are a beautiful bouquet of brilliant thriller.
The film Rampo Noir was definitely a masterpiece. Strange that "Hell Rampo" no one noticed.
Screenshots:
Download: