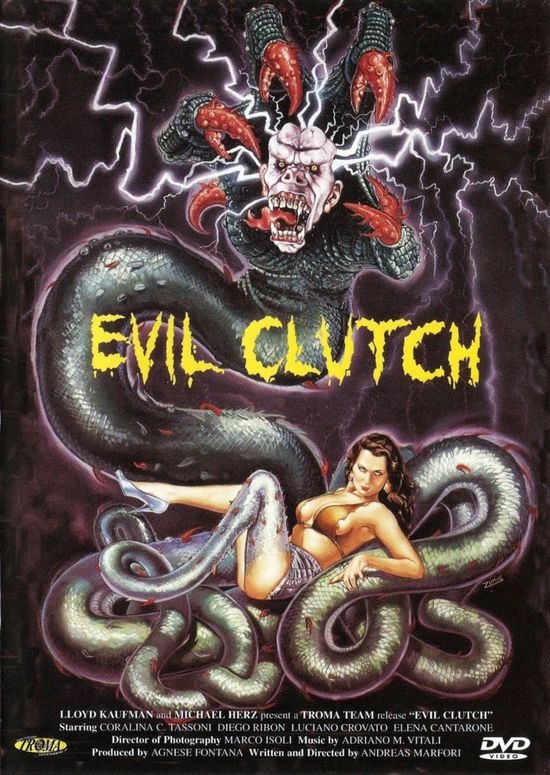 Year: 1988
Duration: 1:25:21
Directed by: Andreas Marfori
Actors:  Coralina Cataldi-Tassoni, Diego Ribon, Luciano Crovato
Language: English
Country: Italy
Also known as: Horror Queen, Gerosoido, Evil Clutch

Description: Young couple in love decides to spend the weekend in the mountains. Everything goes fine until the car stops a beautiful young woman, and asks for a ride to the nearest village…
You could call this film because if the film has a catchy name though, but I do fall asleep running half.
Why? Now will try more to explain:
1) the Plot does not present us with anything new, but to present something old in a more or less adequate way, apparently, doesn't want. Out of curiosity can watch his development, however do not expect an exciting plot twists. Because there's simply no, instead, there is a feeling of being somewhere you've all seen. And for good reason.
2) the Actors in this film, only those are called, on the background of the main characters, a couple of "zombie" plays much more convincing.
3) the Cinematography is more or less acceptable, but starts with it the feeling of something painfully familiar, namely, moving the camera at high speed under a threatening music, do not like?
4) the Atmosphere. Usually, in this respect I really like Italian horror movies of the 70-ies and 80-ies, as its in such films galore, but here I somehow don't see, whether because of its similarity with the legendary "Evil dead", whether because of outright stupidity of what is happening.
5) the Soundtrack. Here I think about anything to say it, all Italian horror films have a wonderful, atmospheric soundtrack, this film is no exception.
6) special Effects. That's what the film is really can not boast. But you must admit, we love the movies of the past decade not for the special effects.
But it is also true that the movie should be interesting and, alas, whether the creators of this product forgotten it, or does nothing planned, anyway, this film is interesting I will not name.
Screenshots
Download