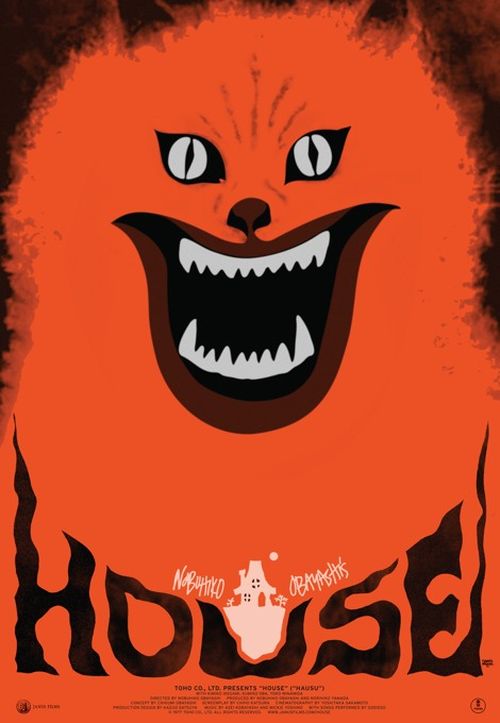 Year:1977
Duration:01:27:28
Directed by: Nobuhiko Ôbayashi
Actors: Kimiko Ikegami, Miki Jinbo, Kumiko Ohba

Language:Japanese
Country:Japan
Also known as: House, Дом

Description: Angel is angry with her father and changes her vacation plans so as to get away from him. She impulsively decides to visit an estranged aunt who has an old house in the country.
Angel brings her six schoolgirl friends along for the ride. Taking in the sights and sounds, they eventually arrive at the old and charming country manor.
Meeting Angel's aunt and settling in, everything goes swimmingly — until strange things appear and the girls begin to disappear…
The campaign of the seven Japanese Schoolgirls-nymphets goes to frolic in the lap of nature in the old mansion.
In the house, which is typical, is inhabited by a relative of one of the girls that became nothing better to do or a witch, or demon, prone to eating virgins.
Variety in the diet in the form of seven well-fed kids witch meets with obvious enthusiasm.
Don't know that he had been a Director Obayashi when filming this masterpiece, but obviously something hard and hallucinogenic.
The picture flickers, dazzled, divided into hundreds of clips. the screen flashed seals, skeletons, naked girls and various household items prone to cannibalism.
And all this against the backdrop of painted hippie decorations and under weird Japanese-American music.
Places Obasi even managed to surpass the master film genre – "the Living dead" Jackson.
The plot itself is not important. Wonderful imagination of the Director, sometimes disappearing into the full game.
The film itself is hard to classify someone eaten or dismembered in a bizarre way, the girls play or sing, Yes running seals.
Overall wonderful movie and recommended for viewing.
Only it is desirable to raskoryachit before the film consciousness for better perception.
I personally helped brandy.
Screenshots
Download