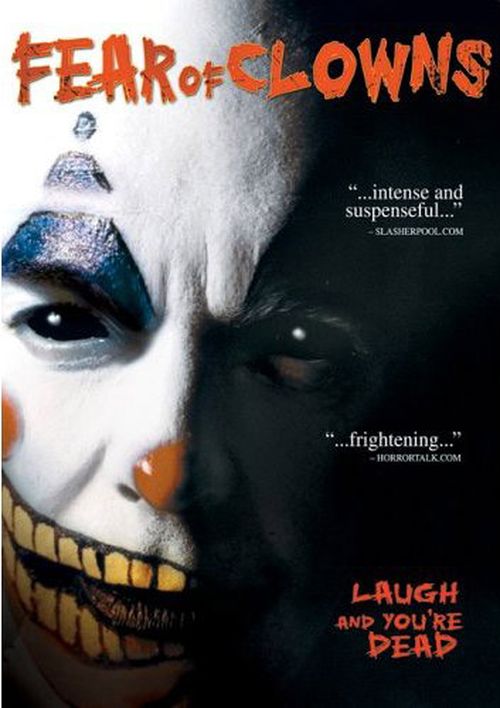 Year: 2004

Duration: 01:46:05
Directed by: Kevin Kangas
Actors: Jacqueline Reres, Mark Lassise, Rick Ganz
Language: English
Country: USA
Also known as: Fear of Clowns
Description: Lynn Blodgett – an artist who suffers of clownstrophobia (fear of clowns). She Copes with her fears very peculiar, drawing most of these fellows whom she is scared. Opening a gallery of her works in one of the towns, she moved there to live. One night, a neighbor of her family was slaughtered by some psycho. Detective Peters took up the investigation into the circumstances of the case, immediately taking a "short interview" with Lynn. The girl, however, went to her exhibition, where one of her works for 8000 dollars bought a rich man named So Reid.
Along the way, she met him, and he even asked her to go with him to "drink tea". We must also say that Lynn was in divorce with her husband, and they could not share their money, son and property, and therefore the betrothed planned to send Lynn to "her ancesters". And her husband worked as a psychiatrist where he had a patient who imagined himself a clown-killer. This patient escaped from the asylum, and painted his face in a terrible way and began to cut sharply residents with an axe. With each new victim insane clown is getting closer to the artist, to embody the reality of her worst nightmare …
Review: "Fear of Clowns" – this misunderstanding in the genre of thriller. Kevin Kangas instead, to remove everyone's favorite trash (only the film's budget and implied), I decided to scare the audience not familiar severed arms and legs, and use other methods for injecting the atmosphere tense. It is not difficult to guess that it did not work. Kevin Kangas – not Hitchcock, and thus create suspense for it is not that difficult, but rather an unattainable goal. Everything that happens on the screen – this is a disgusting spectacle, with an equally disgusting actors. Even as for the film, which went straight to video, staging will not do.
That's the most important thing in a thriller? This well-built affair, which, in fact, makes the film to see out. What we see in this case? It simply does not. Who is the murderer becomes obvious even for half an hour before the end of the picture, because the writers themselves have contributed to this. It is not clear why in the storyline were introduced judicial  between the main character and her ex-husband, who is only prolong timing the film, but does not heat up interest in him. At this error does not end with the director. Gradually, the story is undergoing changes and turns of a thriller frankly weak in one of the most primitive slasher. The killer is no longer guided by even elementary logic, and kills indiscriminately (I must say, with the fantasy he has big problems). Again, I want to ask Kevin Kangas: "Where these same murder?" All of them are somehow behind the scenes. Even on their creators have decided to save.
The image of the serial killer is clearly working women. Is this clown can at least someone to cause fear. It's just a stripper. I never realized what he had walked the entire film with a naked torso. It seemed that he was about to start spinning around the nearest pole. Surely it was impossible for him something to wear? I think that no one I've wondered what it's happiness with our schizophrenic clown black eyes? Script writers have decided to explain this phenomenon rare disease, which is called Leber's amaurosis. But they left out one thing: this disease does not lead to such fabulous results. Black eyes – it's only a bad fiction writers.
Operator's work disgusting. It feels like the movie Fear of Clowns was filmed on amateur camera. Even I can not imagine how small the budget. After another victim dies under the sweep of a cardboard ax, she mysteriously turns into a mannequin that can be found in every boutique with men's and women's clothing. And then you can look at all this horror? Only a person with a good sense of humor can safely be taken to what is happening on the screen.
Describing the actors play hard to avoid profanity. Jacky Reres clearly not worth more in the movies. Hamming it is often scary. Although you have to hand it to her, a sense of fear, at the time the clown, it is perfectly conveyed. With Rick Ganzi are reversed. It would be nice if he at least sometimes changed his facial expression. Yes, and the rest should not expect good acting work.
If you want to see the horror, then you need to get this movie tenth road, and if the killer clown who earns his living by a striptease, then it's like, just what you need.
Screenshots:
Download: