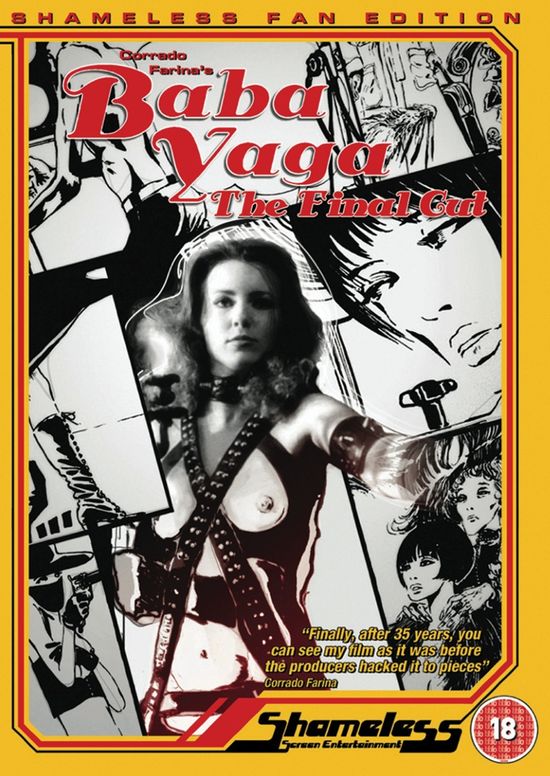 Year: 1973
Duration: 01:25:47
Directed by: Corrado Farina
Actors: Carroll Baker, George Eastman, Isabelle De Funès, Ely Galleani and Daniela Balzaretti
Language: English | Italian (English subs)
Country: Italy | France
Also known as: Kiss Me Kill Me, Baba Jaga, The Devil Witch, Black Magic
Description: Valentine, a fashion photographer, under strange circumstances met a woman, who presented herself … as Baba Yaga. This lady is not young and gives Valentina a doll that can come to life. She touches the camera – and photographed man falls dead. Valentine becomes dependent on Baba Yaga. Breaking her free from the captivity of glamor tries her lover Arnaud.
Review: "Baba Yaga" for Italian cinema – quite an unusual film. In its style it is more similar to the American film industry, which is not surprising, because the basis of his story lay comics. However, certain features of the mystical horror from the Apennines to film Corrado Farina saved, only for the benefit of the film is almost gone. Conventionality of the plot graphic stories, superimposed on the traditional Italian realism even in the most unlikely corners of his (to this we add that Farina himself came from a documentary film) has created a strange hybrid, which does not know how to treat and. On the one hand, the typical giallo images of the "victims, survivors' and her boyfriend (fiance, lover), save that at the last moment, on the other – frankly" komiksovoy "figure" Baba Yaga "with its mysterious doings and reviving doll . On the one hand, and lesbian bdsm-motives, on the other – almost Hollywood Puritanism against erotic scenes. On the one hand, the aesthetic borrowed from detective-noir, the other – rather languid and calm development of the …
In general, the taste of the dish was quite neutral, if not gray. Yes, and actors, as they say, left much … niece of Louis de Funes than any other name talent is not found, George Eastman adequately looked except in films Joe D'Amato, well, Carroll Baker as Baba Yaga and play something special was nothing … However, despite all this, watch the movie – occupation is not boring, and it outweighs many of its shortcomings. Yes, there is practically no plot, the actors are … well, in short, just play, but a great, simple, stylish camera work, and some staging supplied by Signor Farina just "good." A first meeting of Baba Yaga, driving around in a luxury "Rolls Royce" of Valentina is worth something! Another thing is that many of the episodes leave behind a feeling of somewhat parody – well, what do you want, a comic book! Here, not only enchanted camera and murderous doll in BDSM outfit possible – seen and abruptly …
One way or another, and the film a place in history has taken, even if not right away … If only because, clearly defying a slim number of Italian giallo and spaghetti-horror of his originality and outright trash, visible even in comparison were not always good taste mass Apennine film production. And in this case, it does not matter how good or bad «Baba Yaga» look at its birth in 1973, the year.
Screenshots:
Download: