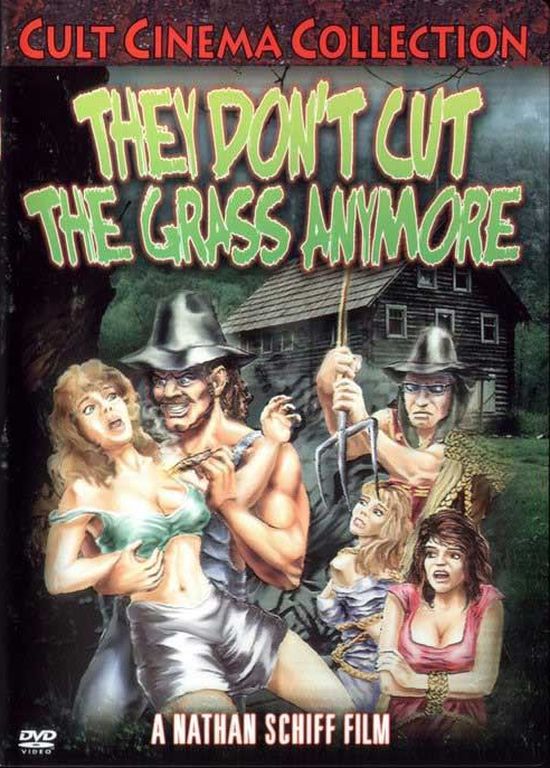 Year: 1985
Duration: 01:10:17
Directed by:  Nathan Schiff
Actors: John Smihula, Adam Berke and Mary Spadaro
Language: English
Country: USA
Also known as: 
Description: Two friends, Billy Buck and Jacob, work as gardeners in a quiet and well-kept suburb. They cut bushes, trees and lawn in front of the houses. Once they decide to "cut" the residents of these houses …
Review: Another ingenious hack of Nathan Schiff. The same special effects diy-improvised, is the same John Smihula in one of the main roles. Here he plays a mad gardener mowing lawns. In the role of a maniac he is more fun: in a black wig and a stained eyes. Gothic make-up. Second crazy game in a terrible actor, but, nevertheless, is also a fun mask. Constantly licking tongue, thus emphasizing their abnormality? Second maniac, in my opinion, came more mysterious and interesting. He's still not talking.
And the duo maniacs killing girls and their boyfriends. See a couple kissing on the long uncut grass and attack. More still gets weaker sex. Active girls are beaten, cut, gutted. Gallons of fake blood and poured. To show the girl's dismembered torso even require an inflatable doll. Take note of the beginning horrormeykery.
Here again, use theme song from the original "Dawn of the Dead." Surely there was no corresponding own musical accompaniment? However, in the course of the film is some quiet music, which did not pay attention. For the background, not more. But at the end of the film, after the final (bloody sure!) Smihula John sings a song, which he apparently wrote specifically for the film. Play the guitar, he does not know how, but sing well. Accompanies him on harmonica second maniac Silent. On such a positive note and the film ends.
Screenshots:
Download: