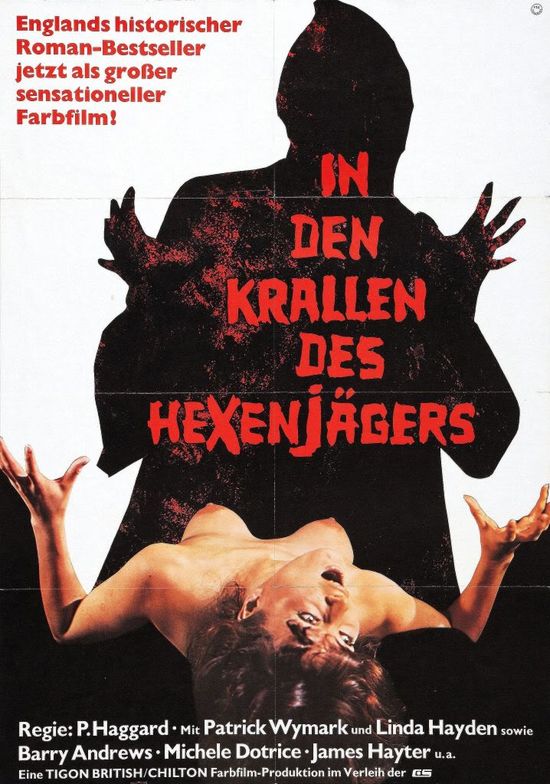 Year: 1971
Duration: 01:32:58
Directed by: Piers Haggard
Actors: Patrick Wymark, Linda Hayden, Barry Andrews
Language: English
Country: UK
Also known as: Aima sta nyhia tou Satana, In den Krallen des Hexenjägers, La nuit des maléfices, La pelle di Satana
Description: 'Blood on Satan's Claw' used to play quite frequently on late nite British television in the eighties and early nineties. It's rarely glimpsed now, which I'm assuming is something to do with it's hot potato subject matter: barely pubertal youths raping and murdering each other.
It's an almost nearly-kind-of-great film. It's extremely atmospheric and beautifully photographed and scored. Linda Hayden is genuinely unnerving as a demonic little strumpet and there's a cool supporting cast of British character actors. However, it doesnt quite hang together as it should. But if you're a fan of period horror flicks you'll probably love it.
Although the film has a slightly cobbled together feel to it, due primarily to budget constraints and the fact that the initial intention was to make a three part anthology, there is still much to admire in this fantastic British horror film that was far ahead of its time, and thanks to some startling imagery and a fantastic score by Marc Wilkinson remains genuinely eerie to this day.
Review: The end of the 17th century. Ralph finds a young farmer in his field mysterious skull with one eye hole and oddly arranged hair. He tells of his finding the village judge, but when they come on the field, skull inexplicably disappears. The judge did not believe Ralph and believes that witchcraft is not to blame. Meanwhile, in a peasant village comes nephew Peter with his fiancee. At night, she begins to cry terribly.
People came running in fear to see that instead of a hand of the girl bestial paw. Man is placed in a psychiatric hospital, but soon begin to occur in the country, similar and even more horrible events. They're all somehow centered around a young girl Angel Blake …
Screenshots:
Download: