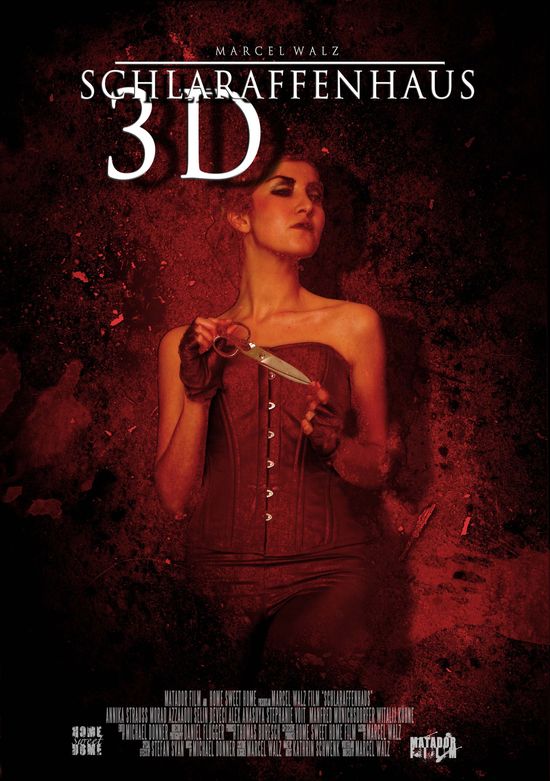 Year: 2011
Duration: 01:25:00
Directed by: Marcel Walz
Actors: Annika Strauss, Alex Anasuya, Selin Deveci
Language: German
Country: Germany
Also known as: Candy House
Description of Schlaraffenhaus movie: In 2011 he published a little-known film House of Pain , which is a thriller with elements of gore / torture porn. I decided to look for his cover and description, so long as I have not seen these movies , especially quality .
From the outset, we show one of the sisters , who leads an ordinary life : walks through the city, living in a wealthy family and doing his chores .
Soon it comes to her sister, who ran away from home and leaned into outcasts. Girl all scared, but her sister calms . It would seem that all is well , it remains only to wait for his father, but the house bursts " sweet couple " who prepared the girls death , painful and bloody .
Directed by Marcel Walz , a little-known director who released the tape in a similar style gore . We also know that he is a friend of Uwe Boll , who produced his film , and he himself Marseille in 2014 plans to release a sequel to " Sid 2 : The New Generation ", which is supposed to continue the story of a maniac Uwe Boll .
Initially, the film goes smoothly , we show the beautiful scenery and the town mansion , acquaint with the heroines , and comes closer to the end of the action .
Actress played well , even well enough, but did not disclose the images. Heroes turned infernal and brutal , creating memorable images of monsters . Mostly characters behaved stupidly , Maleh replayed and carried nonsense , but overall impression created is good.
Now raisin – torture . Yes , torture and violent scenes turned disturbing , sadistic and bloody made ​​with a slice of originality and a reference to the spirit of the Middle Ages torture . Several bloody scenes , but any horrormana , and even meat lover will enjoy cruelty and quality.
Makeup effects wizard and tried , and if they added more gore- scenes , the film could be one of the most brutal and bloody .
The plot of the film initially unremarkable , but the atmosphere felt and sometimes strained . Toward the end it turns out, who's in what is involved , which is quite unexpected. The plot of the film ( how it started ) and well conceived this turn of events is able to surprise the viewer.
But of the cons can be identified except the last moments of the film. Characters behave unclear effects at the time of suicide even look funny , and the ending is not clear , even slightly foolish .
Operator worked well to convey the atmosphere of action.
Bottom line: Good enough film on torture porn, which will delight as the plot and gore- scenes , which will please fans of splatter . The idea of ​​the film is good, but in the end the writers slipped down that upset and made a silly movie , but overall the film is worth watching .
Screenshots:
Download: