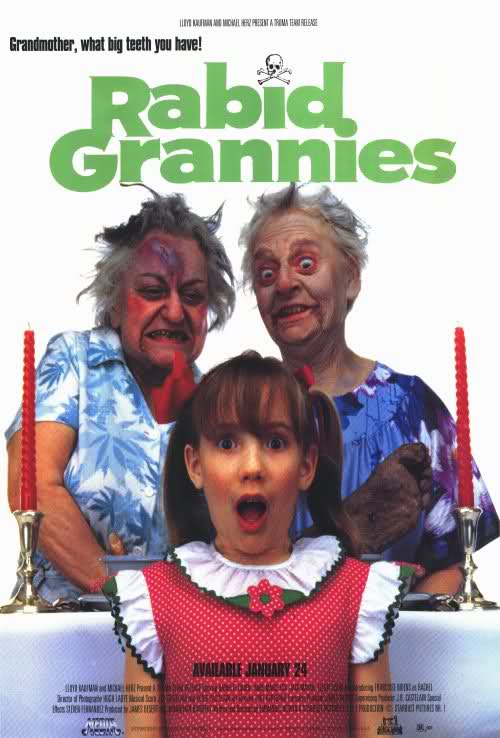 Year: 1988
Duration: 01:24:31
Directed by: Emmanuel Kervyn
Actors: Catherine Aymerie, Caroline Braeckman and Richard Cotica
Language: English
Country: Belgium, France, Netherlands
Also known as: Les mémés cannibales, Abuelas rabiosas
Description: Two elderly sisters decided to celebrate their birthday by inviting all their relatives, who only think about how to get all the Grannies inheritance. The holiday, I must say, has not turned out because their nephew, a Satan worshiper, gave them a gift that turned old ladies into violent furies, eating people alive …
Review: So, my friends, here's another masterpiece of Troma Studios (The Janitor, Unspeakable) with a very nice title Rabid Grannies.
Personally, I was surprised that director and screenwriter of the film Emmanuelle Kerwin didn't direct previously any films. Rabid Grannies was his first and so far last film. Just when I watched this movie, I felt that it was made by a professional producer of trash. Because the film is decomposed by all parameters of a trash flick, very accurately. It would be a shame if Kerwin won't release anything else.
Of all the movies made by studio Troma, which I watched, this is my special one. Well, let's take at least the movie's story. At this time it's unique. I searched a lot, trying to find a movie like grandmothers, but I couldn't find anything similar.
Two old grannies are having a birthday party, and they decided to gather all their family. Grandmas were very rich, and of course, each member of the family wanted to get his part of the inheritance.  All guest arrived except Christopher. He was the nephew of grandmothers. He didn't came for some reasons, but sent a small box. Grannies immediately opened it and a bunch of smoke flew out of it, which hit in the glasses. And then one family member proposed a toast, all raised their glasses and drank. After that, in the house begins the madness, for which we so love the Troma studio. Ordinary lovely grandmothers became the furious attendants.
Friends, this film is a real studio Troma. So fans of "bad movies" should watch it. Lovers of trash flicks can save it in their collection

Screenshots:
Download: