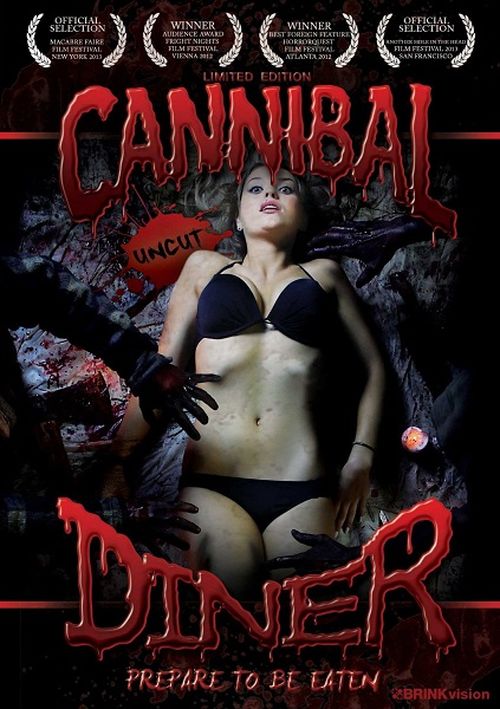 Year: 2012
Duration: 1:12:36
Directed by: Frank W. Montag
Actors: Alexandra Lesch, Kristiana Rohder, Laura Baum, Indira Madison, Alexandra Jordan, Mike Zick
Language: German
Country: Germany
Also known as: 
Description:

Kati is a young model heading to a party in honor of the birthday of her little sister Celine. Tanya's best friend Katie, together with other invited decides to have a party after breaking camp near the forest, but during the preparation, they are attacked by strangers. Kati, still not reaching to the right place, he gets confused and moves in the wrong direction specified by the tramp. When later her car was stolen, lost Katie, wandering in the deep forest, suddenly goes to the old factory, where a clan of cannibals is already preparing the main course of his dinner with her friends.
Spectacular, intense, dramatic, intriguing… All these epithets cannot be attributed to the fact that we are invited to contemplate in the movie "Cannibal Diner". Slurred bike on chemical contamination and a group of German lovers of nature mixed in outrageously tedious action when viewing it is, will not suffice nor any willpower to overpower (without interruption and without rewind) from the beginning to the end of this flood of scarce German imagination.
It is difficult to say for whom and what is the purpose of this film? Why the crew had to spend the time, effort, and money? Of course, the whole process of filming, judging by the resulting material, never took them much time and effort (and especially Finance) and yet… are they themselves Are not ashamed of this? Do they believe that what they did can be attributed to the cinematography? It is not art, this is the garbage that the film has a very indirect relation.
Screenshots
Download