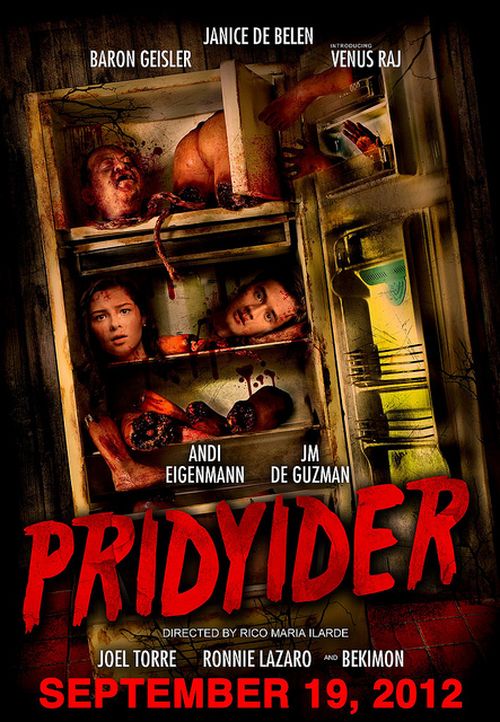 Year: 2012

Duration: 1:29:23

Directed by:  Rico Maria Ilarde

Actors:  Andi Eigenmann, Janice de Belen, JM de Guzman

Language:  Filipino | Tagalog

Country:  Philippines

Also known as: Pridyider, The Fridge

Description: Tina is an orphan, brought up by the aunt in the United States. All my life she wonders why her parents had thrown her… And once she escapes from the American dream, home, in order to realize his real dream: to open a restaurant and become a chef. Having entered into possession of the house, she has no idea what terrible secrets about her parents opens it.
After watching this film I was left with mixed feelings, on one hand, I still haven't seen (refrigerator pulls in people and kills), but on the other hand everything is so standard and usually, well, first things first:
Pridyider – standard horror film at once, which looked once and forgot. The only thing that can really be a surprise, so it's a killer – there is a refrigerator, a rather unusual killer, you will agree!
Now, briefly about the plot! The plot is painfully banal, the girl moved into the house where her parents lived, there is a refrigerator in which is the soul of her mother, who can not find peace (this is one of the highlights of the film).
Now about the cast! Actors is the only thing that saves the film. Especially want to highlight the main character, the actress who played Tina, very cute, fit perfectly and have done their role well in General all the actors did a good job with their roles!
The outcome! In the end, I want to say that the fridge is the usual horror that nothing can surprise you in terms of plot, but the fact that the filmmakers decided to come up with a fridge killer, it really surprised! For this set
Screenshots
Download